Resident Profile – Kurt Keaner, 22
by Mary Martineau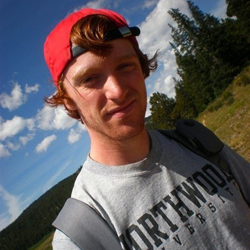 Kurt Paul Keaner, who was named after his grandfather, is a relatively new Harrison West resident having rented on West Third Avenue for only six months (and counting!) thus far. He was born and raised in Saginaw, Michigan, a small city near the "thumb" of that state up north. He came to Ohio in 2007 to attend school at Capital University, where he studied art and audio engineering.
He lived in Bexley while attending college, but after he graduated, he began looking for a place closer to downtown and the Short North. When he found the house adjacent to Caffé Apropos available for rent, he knew it was the perfect location for him.
Kurt works as a video editor and sound designer for Spacejunk Media. He started learning about video production and animation independently during college and liked what he was discovering. So much so that he secured a few internships before landing at Spacejunk, which he enthusiastically refers to as "the best company ever!" Coincidentally, his work at Spacejunk Media led to a freelance job photographing and videotaping North Market events . . . which led to our introduction . . . which led to Kurt's profile for our neighborhood Website.
As we hear almost universally from Harrison West residents, Kurt loves the location of the neighborhood. Proximate to downtown, the Short North and Grandview Heights; chock full of awesome local restaurants (Katalina's Café Corner and Northstar Café ranking high on Kurt's list) and, in his case, three blocks from the Olentangy River Bike Trail, Harrison West is close to many of the places he likes to be. Kurt's free time consists of playing music, attending concerts, riding his bike, traveling and an extension of what he is currently doing for a living: photography and video. Kurt exhibits such abundant enthusiasm for Harrison West. . . . Let's keep those months of residency increasing!