Trick or Treat at the North Market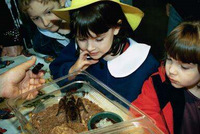 The North Market will host its annual childrens' Halloween party and trick-or-treat bonanza on Sunday, October 30 from 12-3PM. Children will enjoy a safe indoor trick-or-treat experience as well as entertainment from face painting to crafts with Columbus Artmobile. Trick-or-treat bags provided and lots of fun to be had by all!
Scheduled Halloween Party activities include:
• North Market merchants open, 12-5PM.
• Trick-or-Treating at the North Market, 12-3PM while candy supplies last
• Mark Wood Fun Show, 12-3PM
• Crafts with the Columbus Artmobile, 12-3PM
• Bounce house on the patio, 12-3PM
• Bugman Enterprises with creepy crawlies, 12-3PM
• Face painting, 12-5PM
The North Market Halloween Party is a free event for all costumed youth from toddlers to twelve-year-olds. For more information, please call the North Market at (614) 463-9664, email info@northmarket.com or visit www.northmarket.com.