Advertise on HarrisonWest.org
It's the dilemma that every company faces: How can I get the word out that I'm open for business? How can I reach hundreds or thousands of potential customers without blowing all my profits on an advertising budget? We've got an answer for you. Advertising on HarrisonWest.org will showcase your business to nearly 1,000 unique visitors every month without breaking the bank!
HarrisonWest.org serves as the primary communication resource for the residents of Harrison West and the surrounding neighborhoods as well as for people thinking about moving to Harrison West. The Website raises awareness about neighborhood issues and concerns, shares information concerning proposed development, encourages civic discussion, publicizes general news and local events, profiles residents, promotes area businesses and publishes Harrison West Society meeting agendas and minutes. The Harrison West community includes over 3,000 residents and is home to a number of local, regional and national businesses. The Website receives visits from both Harrison West residents and many whom live outside of the neighborhood.
Get Started:
Advertising Contact: advertising@harrisonwest.org
Download the Advertiser Contract HERE
Advertising Rates Starting at $100/month.
—
Advertising Options
Banner Ads
Top Leaderboard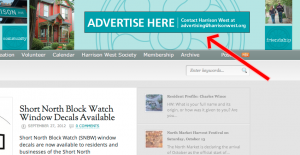 Sidebar Banner
E-mail Newsletter – Top Banner