Parks
3rd-Perry Commons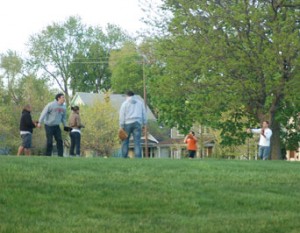 The 3rd-Perry Commons is a former private property at the corner of West Third Avenue and Perry Street that is our newest Park. Tag footballers, frisbee throwers, and kite flyers can often be found on the green space enjoying the day. The Society is actively developing this area as a park for the neighborhood.
Goodale Park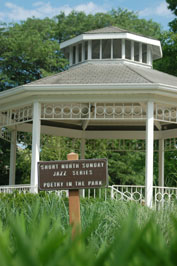 Located in Victorian Village and surrounded by historic Victorian homes, the 32.71-acre Goodale Park is the oldest park in Columbus. It is bounded by West Goodale Street, Dennison Avenue, Buttles Avenue, and Park Street. For more than three decades, it has hosted the Community Festival—ComFest—the largest volunteer-run music and art festival in the United States. In addition, the park hosts the annual summer Goodale Park Music Series featuring free live music at the gazebo. Other park features include:
drop off bins for recyclables including newspaper, glass and plastic (in the Dennison Avenue parking lot)
baseball diamonds
a basketball court
six tennis courts
gardens and floral displays
a gazebo
a pond and sculptural fountain
picnic benches
a playground
an enclosed, reservable shelterhouse
an open-air shelter
a 0.9-mile, lighted, outdoor walking trail
Harrison Park

Harrison Park is located on Harrison Park Place between West First Avenue and Quality Place. It was developed from the Harrison Park Development. Among it's notable features are:
a segment of the Olentangy Recreation Trail
a one-mile course around the park beginning where West Second Avenue meets the Olentangy Recreation Trail, running south along the trail to Quality Place, east to Perry Street, north to West First Avenue, west to Harrison Park Place, north to West Second Avenue and back to the intersection of West Second and the Olentangy Recreation Trail
park benches, refuse cans and attractive lighting along the Olentangy Recreation Trail
wrought iron picnic tables with benches, including one handicap-accessible table
an outstanding, handicap-accessible gazebo designed to host celebratory events such as concerts and weddings
a playground including an area for older children and Funk-ee-Town, a fenced area sporting a safety surface, designed specifically for younger children and named in memory of Mary Funk, a long-time Harrison West resident, advocate and activist
four public art pieces designed by Columbus College of Art & Design students and chosen through community-wide votes
fantastic river views
open grass fields perfect for picnics, games, relaxing in the sun and reading a good book
Harrison West Park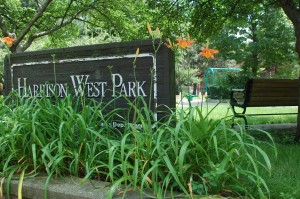 Located in the northern half of Harrison West on Oregon Street at Fourth Avenue, Harrison West Park is the oldest park in the the neighborhood. It is conveniently tucked into the neighborhood one block east of the Battelle green space and is surrounded by homes. It includes:
10 park benches
picnic tables
fencing
a playground for young children
toddler swings
Olentangy Recreation Trail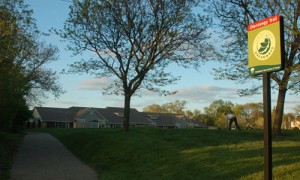 The Olentangy Recreation Trail runs from Worthington Hills Park near I-270 in Worthington south to Confluence Park in downtown Columbus and generally follows the Olentangy River. Harrison West is the only neighborhood in Columbus where the trail runs along both banks of the Olentangy. The 18.4-mile trail crosses the Olentangy via an under-bridge path at West Third Avenue, one block west of Perry Street. The west leg of the trail passes through downtown while the east leg currently stops south of Harrison Park. The east leg to Goodale Street was finished in 2012, with the exception of a short section along Buttles Ave, west of Ingleside still in planning. This extension provides a second location where riders can cross the Olentangy and SR-315.
Side by Side Park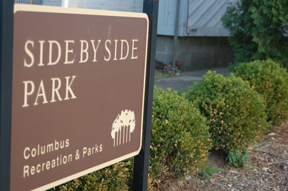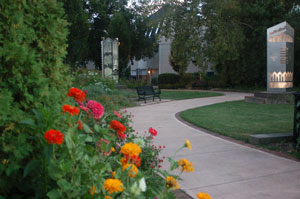 A serene weigh station along the Olentangy Recreation Trail,
Side-by-side Park
is nestled between residences on the south side of West Third Avenue and the Olentangy River. Overlooking the Olentangy River, this 0.19-acre park is the gateway from Harrison West to the 20-mile, scenic Olentangy Recreation Trail. Due to the combined efforts of the Harrison West Society and the Columbus Recreation and Parks Department, Side by Side Park features beautiful floral gardens, park benches, paved walkways and an artistic centerpiece sculpted by Charlotte Lees of Solon, Ohio.
Wheeler Dog Park
Wheeler Memorial Park is tucked into the south half of Harrison West one block west of Neil Avenue on Thurber Drive West. It is entirely enclosed by fencing designed specially to protect dogs of all sizes and is open from 8 a.m. until 11:00 p.m. It has been such a success that after its first year, the park lawn had to be reseeded! With active dogs in mind, the 1.5-acre Wheeler Park was designed with the following features:
a water pump
ample lighting
walking paths
benches for human companions
easily-accessible street parking