Sewer Work to Resume in Harrison West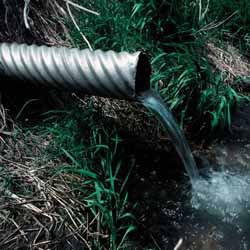 On April 3, 2012, Marie Keister, Jeremy Cawley and Bruce Frazier from the city of Columbus presented plans for sewer work scheduled in Harrison West. The project is part of the city's Wet Weather Management Program, and its main goals are to separate the combined sewers in the neighborhood and to reduce sanitary sewer overflows into the Olentangy River. In Harrison West, the project also includes some ancillary work that can be most efficiently completed while crews are already in the area.
Between August 2012 and May 2013, crews will be adding new catch basins along West First and West Second avenues, separating sanitary sewers from storm sewers, repairing and replacing pipe that is in some cases more than 100 years old and nearing collapse, filling abandoned lines with cement to prevent future collapses and replacing and upgrading numerous manholes. The affected area is bounded on the south by West First Avenue, on the west by Perry Street, on the north by West Second Avenue and on the east by Oregon Avenue. The south side of West Second Avenue from Perry Street to the Olentangy River will also be included in the project.
Traffic will be maintained during the project, but occasionally, short-term closures may be necessary. On very rare occasions, residents may find that access to their garages has to be interrupted; such interruptions should not exceed 15 minutes or so. Generally, crews will be working from 9 a.m. until 4 p.m., Monday through Friday, so for most residents, interruptions will go unnoticed. Any detours around work areas will be clearly signed. Brick on West Second Avenue will be removed for the work but will be replaced when work is finished. Damaged or degraded brick will be replaced with historically compatible brick.
Residents of Harrison West will see benefits directly from the project. Sewage backups into basements should become a thing of the past, unpleasant odors emanating from our existing catch basins will be eliminated or greatly reduced, the quantity of sewage overflowing into the Olentangy River will drop significantly, and we will have a new grass strip along the north side of West First Avenue and new leatherleaf viburnum screening the pumping station at the end of West Second Avenue.
The Ohio EPA's Website provides some information on the city's Wet Weather Program as well as links to learn more about sewage overflows in general. You can also contact the project's manager Jeremy Cawley in the city's Department of Public Utilities if you have further questions about the project.