West Fourth Ave Ice Cream Social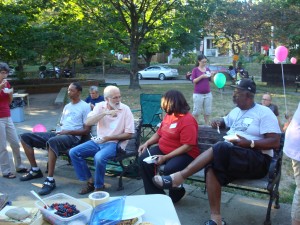 More than sixty residents and friends of West Fourth Avenue gathered for an ice-cream social at Harrison West Park on August 7, 2012. The event was planned as a National Night Out event. Neighbors spent the evening getting to know each other and socializing as a neighborhood. Several households provided ice cream with toppings, and folks brought other desserts to share. Children enjoyed the balloons, which made the event very festive. Folks chatted, shared stories about the neighborhood and enjoyed each others' company, all to strengthen the community that residents on West Fourth Avenue share.
The idea came about because neighbors want to knit together the "hood" and get to know each other. This is the first time the Fourth Avenue folks have done something like this, but they are already planning some activities to build relationships in the neighborhood.
Many long-time residents on West Fourth Avenue have known each other for a number of years. Now they're striving to get to know the new folks and to include households from all socio-ecconomic levels. We are an urban neighborhood who values each other and the community.
In years past, the Harrison West Society has hosted an annual street party on West Fourth, but since that has relocated to Harrison Park, some folks are less able to attend. The ice cream social was an attempt to bring the neighbors on the street together, and it worked.
You can view more photos from the event HERE