Resident Profile – Mara Marcom, 31
By Mary Martineau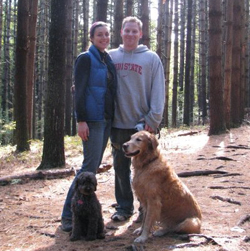 Mara Marcom lives on Harrison Avenue with her fiancé, Steve Christine, and their two dogs, Brian (Steve's golden retriever) and Cocoa (Mara's miniature poodle). She grew up in Bexley and attended Ohio University in Athens for her undergraduate degree. She then moved to Rochester, New York to work in the art museum there. In 2004, she decided to return to Columbus to attend graduate school at The Ohio State University for Art Education. Mara knew that she wanted to buy a house that would be convenient to classes and still offer interesting things to do off campus. Having grown up in Columbus, she was drawn to the Short North; she imagined it to be the place where all of the "interesting people" live. She found the perfect little place (859 square feet) on Harrison Avenue that was affordable, had a big garage and was located exactly where she wanted to be.
Mara and Steve love being able to walk to "all kinds of great stuff like restaurants, shopping and campus for game day tailgating." They also find the Short North to be a very dog-friendly community. In fact, Mara and Steve first met at Goodale Park where they each took their dogs to play every day. Their acquaintance turned to romance three-plus years ago, and the couple got engaged this past August. They will tie the knot at the Columbus Museum of Art next June. The location is a fitting one considering Mara's background in art. In high school she worked for the Riley Hawk Gallery, and she still occasionally helps out during Gallery Hops at Sherrie Gallery. She recently became an elementary school art teacher with the Dublin City Schools and loves her new job.
Steve works for Mussun sales, conveniently located in Harrison West. The company sells HVAC equipment to contractors. A perk of the job is occasionally having the inside scoop about what is going on in the neighborhood. The most recent instance being the Jeni's Splendid Ice Creams' acquisition of the former Quality Meats building.
Mara and Steve like living in the still-in-transition Harrison West neighborhood with the birds-eye view of Victorian Village (literally on the other side of their street). They find it exciting to see people renovating homes in the neighborhood and making improvements to their yards. The canine-loving couple is especially thrilled with the addition of Wheeler Park as a place for their four-legged kids to romp.