August Means Action!
by Matthew Williams
This last full week of August 2012 has been a heck of a week for the Harrison West Society Parks and Green Space Committee.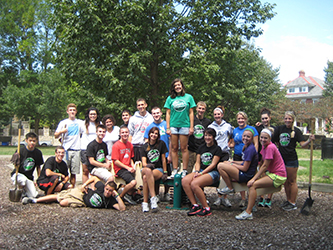 On Tuesday, 20 volunteers from OSU's incoming freshman class joined the committee for a clean up in Harrison West Park. It was a chance for them to start to make Columbus their home—if only for a few years—and to begin the often uncomfortable process of meeting classmates and new friends. With their help—and a little fun along the way—we edged all the tree beds, mulched the beds with deciduous trees (mulch for the conifers is on the way), deadheaded and weeded the flower beds, trimmed up the trees, collected twigs and trash, and dug out two overgrown quinces. The quinces were particularly stubborn; in the end, it took five of us working on each stump to cut and pull them out. The volunteers were great, and we can't thank them enough for their help with our oldest neighborhood park.
On Wednesday, we had our largest-ever turn out for Cleanup and Cocktails. Eight of us were able to weed and deadhead all of Harrison Park and cage a number of the trees that are most vulnerable to beaver attacks. We'll be doing more of that in the coming months, so don't be surprised if you start seeing trees skirted with silvery chicken wire. After we'd gotten sufficiently sweaty, we schlepped over to Caffé Apropos for dinner, a beer and some good neighborhood chatting and gossip.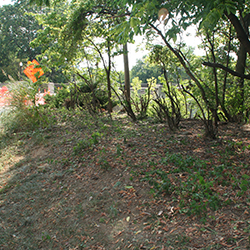 Finally, on Saturday, we capped off an already productive week with a major honeysuckle abatement project between West Third and West Fifth Avenues. We've been planning the event for two months with Columbus Recreation and Parks, Battelle and HandsOn Central Ohio as part of the Columbus Volunteer Challenge. Forty-five volunteers (plus one spunky chain sawing machine of a woman named Elayna) were able to cut and haul out an unbelievable quantity of honeysuckle and begin to open up the riverbank along the Olentangy Recreation Trail. When we called it a day, we had a wall of cut brush ten feet high from West Third all the way up to the north side of the Battelle daycare center. Recreation and Parks brought in a landscape company to chip the brush, and when they arrived, they couldn't believe how much there was to chip. They had planned to work for two hours; five hours later, they were about half done. They'll be back on Monday to finish the job. (Do be careful while you're on the trail this weekend; it's a bit cave-like at the south end right now.) Who knew there was a footpath along the river? You can get down to it now. We also discovered a utility pole hidden in plain sight by 10 to 15-foot-high honeysuckle, and now we can see a couple of enormous, ancient trees. There's still so much to do, but what an amazing start.
Battelle kindly provided food and drinks for the volunteers who, by 11 a.m., were whipped. Gretchen, head of Battelle's Rivers and Streams Team, even made a mountain of brownies to share—delicious! The Parks and Green Space committee—Bob Mangia and I—want to thank everyone who came out to help from the "tween" who hauled honeysuckle all morning to the older woman and her granddaughter (?) who hung in there and made a mountain of brush of their own and everyone in between. We were a little disappointed coming into today because our volunteer numbers weren't what we were hoping for, but boy, you guys knocked it out! We couldn't be more tickled with today's progress and hope you're happy, too. You've really helped make Harrison West a better place to work, live, and play.
If you haven't had a chance to visit Harrison West Park or Harrison Park this week or to walk along the Olentangy Recreation Trail, I can't encourage you enough to do so. I think you'll like what you see. You can see a few shots of our student volunteers here. Before and after photos of Saturday's cleanup are available here. We'll continue doing park cleanups into early November, and we're planning revisit the Battelle-adjacent property in the spring. Think about joining in for these very rewarding projects.