5th Annual Independents' Day September 15
The fifth annual Independents' Day, presented by Gateway Film Center, takes place on Saturday, September 15 from 11:00 a.m. to 11:00 p.m. at Gay Street and Pearl Alley in downtown Columbus. The free all-ages festival offers live music from 36 bands on four stages, artists, crafters, dancers, street performers, restaurants, food trucks/carts, local independent businesses, beer trucks, and a kids area.

Bands
Struck by Lightning, Miranda Sound, Flotation Walls, Fly.Union, Watershed, Forest & the Evergreens, Connections, The Black Swans, EYE, The Saturday Giant, R. Ring, Bookmobile, Lo-Pan, P. Blackk, Indigo Wild, Donora, The Sewing Machine War, The Lost Revival, Path, Petit Mal, White Wolves, afortiori, Apocalypse Inc., Jesse Henry & Strutterfly, Slim White and the Averys, In Silent Movies, Hafrican, The Quinn Essentials, Brujas del Sol, Lionel The Jailbird, The Alpine Ghost, The End Of The Ocean, Alert New London, Mary Lynn, T-Tone The-Voice, and Skashank Redemption.
New This Year
New elements of this year's festival include a free Independents' Day mobile phone app, Ohio-grown short film festival, electronic dance area, local author fair, local fashion activities and workshops, craft vending machine, social media corral, and comedy show.
"Independents' Day is about highlighting the wide variety of ways that Columbus is creative," said festival captain Erin Corrigan. "We're really excited that comedy, fashion, and film have been added to the mix."
Sponsors
Gateway Film Center, 200 Columbus, Alexandra477, Brothers Drake Meadery, Capital Crossroads Special Improvement District, CD102.5 FM, Columbus Alive, ColumbusLocalMusic.com, Due Amici, Eartha Limited, ECDI, Greater Columbus Arts Council, Kobo Live, Little Industries, The Other Paper, The SBB, Telhio Credit Union, WCBE 90.5 FM, Wexner Center for the Arts, and What the Rock?!
Beneficiaries
Columbus Youth Guild and TRANSIT Arts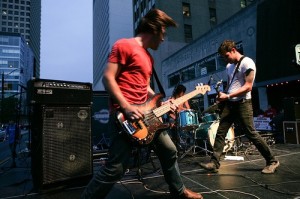 Collaborators
Capitol Square Rotary, Central City Recording, CLOUDHAUS, Columbus Crafty Cotillion, Columbus Idea Foundry, Columbus Is Funny, Columbus Young Professionals, The Couchfire Collective, Dine Originals Columbus, Downtown Residents' Association of Columbus, D.P. Dough, Etsy Team Columbus, Experience Columbus, Food Fort Columbus, Franklinton Arts District, The Hot 17, Mid-Ohio Foodbank, Ohio Historical Society, Ohio Art League, Ohio Roller Girls, Pearl Market, and Wonderland Columbus.
Volunteering
Volunteers can sign up for a shift at thisisindependent.com/volunteers.html.

Contact
Alexandra Kelley Fox: alex@alexandra477.com
Facebook.com/IndependentsDayColumbus
Twitter @CbusIDfest