Tomorrow's Antiques Opens in the Short North on March 3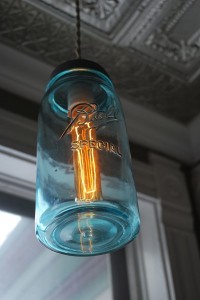 A new custom furniture store and workshop called Tomorrow's Antiques will open in the Short North at 15 East Second Avenue on Saturday, March 3. Inspired by vintage craftsmanship and historic neighborhood spirit, it offers in-home carpentry services as well as pieces made from repurposed antiques and salvaged materials.
Tomorrow's Antiques will host a grand opening party at its space during the Short North Gallery Hop on March 3 from 4:00 to 10:00 p.m. Refreshments will be provided, alongside the sounds of Victrola music and vintage radio programs.
Co-owned by seasoned carpenter Justin Smith and Short North resident Steve Mills, the 1,000-square-foot space will be equal parts workshop and retail. In addition to building and installing Victorian-Era-inspired moldings, trim, mantels, and doors, Tomorrow's Antiques will carry turquoise ball jar pendant lights for $95, chandeliers with period-style Edison light bulbs for $350, and iron grate parlor tables for $250.
"We're recreating pieces of history," said Smith. "This is about paying respect to the original builders of our neighborhoods, and helping people breathe new life into pieces that will become one-of-a-kind keepsakes."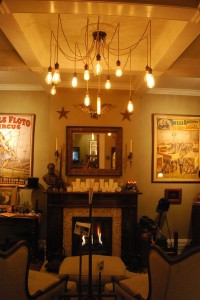 Smith and Mills encourage patrons to bring them items from home to be repurposed, like old radios that can be converted into iPhone speakers, doors that can turn into tables, and windows that can become works of art. The duo plans to collaborate with local glass blowers to incorporate custom handmade glass elements into their creations.
"We don't believe in disposable furniture," Mills said. "We'll use as many local salvaged materials as possible, put a strong focus on historical accuracy — and limit ourselves only by imagination."
Tomorrow's Antiques will be open Monday through Friday from 10:00 a.m. to 5:00 p.m., Saturday and Sunday from 1:00 to 4:00 p.m., and by appointment.
About Tomorrow's Antiques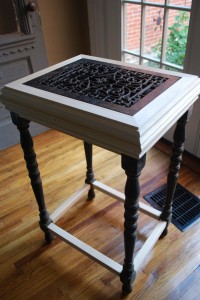 Tomorrow's Antiques is a custom repurposed furniture store and workshop in the Short North Arts District of Columbus, Ohio. Inspired by vintage craftsmanship and a Repair Before Replace mentality, it offers full-scale carpentry services and functional pieces made from repurposed antiques and salvaged materials. Its signature projects include heirloom-quality light fixtures and chandeliers, parlor tables, period-style woodwork, large-scale trim, moldings, mantels, box beams, windows, and doors.
Contact Tomorrow's Antiques
Facebook.com/tomorrowsantiques
Twitter.com/tmrrowsantiques
tomorrowsantiques.com