Litter Is Earth Day Target for HWS Volunteers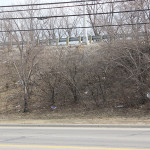 A problem everywhere, litter along river and stream corridors is especially troublesome. Trash discarded by thoughtless passers-by or blown out of trash receptacles and trucks along Olentangy River Road and SR 315 generally finds its way into the river to be consumed by wildlife or caught in unsightly lumps along the banks or islands. For Earth Day this year, the Harrison West Society Parks and Green Space Committee invites neighbors and friends to help us clean up a particularly littered area in our riparian corridor.
On Saturday, April 26, 2014 at 9 a.m., volunteers will meet at the intersection of Olentangy River Road and West 3rd Avenue. We will collect litter in the grass area between SR 315 and Olentangy River Road from West 3rd to West 5th Avenues until around 11 a.m. The committee will provide gloves, bags, rakes, butt kickers, and other litter collection tools as well as florescent safety vests (and doughnuts!). All you need to bring is a willingness to help. And sturdy, closed shoes!
Because we will be working in a sloped area bordered by two busy roadways, children should not participate in this event. For families with children who want to participate in a Harrison West Earth Day project, we will be holding simultaneously a park cleanup in Side by Side Park, which is located at West 3rd and the Olentangy Recreation Trail. Volunteers will pick up trash, deadhead plants, pull weeds and generally prepare the beds for spring. The committee will provide some tools, but if you have your own clippers, trimmers and rakes, please bring them along. We will provide bags.
Street parking is available near both worksites on Perry Street. If you have questions or if you plan to join us, please contact Bob Mangia. You can also sign up at sign up at HandOn Central Ohio or Green Columbus.org or just show up.

Print Friendly