Speed Limit Changes Effective March 27th, 2014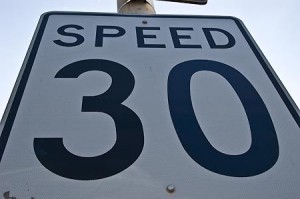 From the Short North Civic Association.
The speed limits on Neil, West 3rd and King Avenues will change to 30 mph on Thursday, March 27, 2014; the speed limit on West 5th Avenue will change to 35 mph on the same day. The Ohio Department of Transportation (ODOT) is requiring that the temporary speed limits established on those streets during the Spring-Sandusky Interchange project be removed because the project has been completed.
The statutory speed limit on these streets is 35 mph. Working with the city of Columbus, the Short North Civic Association, along with Harrison West Society and the University Area Commission, lobbied ODOT to reduce the speed limit to 30 mph. ODOT agreed to a reduction on Neil, West 3rd and King, but not on West 5th.  
In an effort to minimize the impact of the speed limit changes, the city has committed to the following:
an enhanced crosswalk installed on the south leg of the intersection at Collins Avenue and Neil. The crosswalk will include ADA ramps, a marked type-2 crosswalk, pedestrian crosswalk signs and in-street pedestrian crosswalk paddles. The ADA ramps are currently in design and are expected to be constructed by the end of April 2014. At that time, the remaining sign and pavement marking work will be completed.

a pedestrian study at the intersection of Hunter Avenue and King to determine the viability of adding an enhanced crosswalk.

pavement markings to delineate parking lanes along Neil that will visually narrow the width of the driving lane and, thereby, reduce speed. The striping will be added when weather permits.

a review and possible removal of parking restrictions on the west side of Neil between Goodale Street and Collins.

a road diet study on West 5th 

between High Street and Neil. 

The consultant tasked with conducting the study will submit a draft version to the city for review in April. The study could recommend changes that would allow a future reduction in the speed limit on West 5th.

an enhanced speed-trailer program to be deployed after the new speed limits are posted. In the event that speed trailers are unavailable, changeable message board signs will be installed temporarily and will indicate that the new speed limits will be strictly enforced.

an increased police presence in the area after the new speed limits are posted.

Print Friendly