Improvements Coming to Harrison West Park
Harrison Park will be getting a makeover in the near future which will include a number of improvements to the overall infrastructure, additional furnishings like bike racks and metal benches and picnic tables, a new park sign, and a new playground that will appeal to both younger and older children. Jeff Anderson from the city of Columbus Recreation and Parks Department presented two preliminary plans and asked for neighborhood feedback at the July 2015 Harrison West Society meeting. One individual expressed concern over lack of lighting in the area, and Anderson said they would look into the feasibility of additional lighting for the park. After several other discussions and suggestions, the society voted on option 1 and color scheme B shown below and in the attached renderings.
Urban Infrastructure Recovery Funds (UIRF), which the society applied for several years ago, will be funding the project.
There is not yet a firm date for commencement or completion, but preliminary plans have the project slated for spring of 2016. Stay tuned to HarrisonWest.org for future timeline developments.
Option 1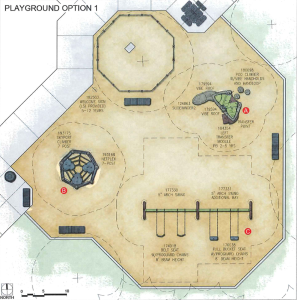 Option 2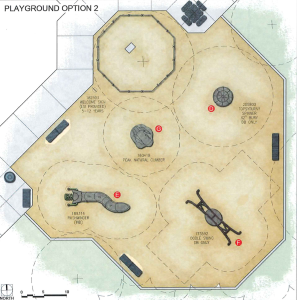 Color Schemes

Preliminary Renderings for Harrison West Park Renovation