Volunteers Clear a New River View
by Matthew Williams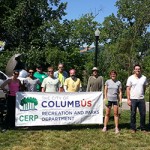 Wander on down to the south end of Harrison Park. Go on. You'll like what you see.
On Saturday, May 31, a group of four city workers and six volunteers sweated through the removal of the last bit of old-growth honeysuckle along the east bank of the Olentangy River adjacent to Harrison Park. The area in which we were working was particularly steep and challenging; thanks to everyone who chipped in and worked carefully but with immense gusto to get the job done.
With the completion of the work, a new vista of the river has finally been opened up. When the Harrison West Connector is completed, this will be a prime spot to lose your thoughts while watching the flowing water. Photos from the event can be viewed in the photo archive.
We will be conducting another invasive species abatement on July 12 from 9:30 a.m. to 1 p.m. Once again, Karl Hoessle from Columbus Recreation and Parks will join us, but this time, we'll be turning our attention to the west side of the river. For a change, we'll be working on flat land, and we hope to make good progress. Additional details are available here.