Harrison West Jazz Stage Returns in September for 3rd Season
The Harrison West Jazz Stage returns for its third season starting September 13th at the Harrison Park Gazebo, welcoming new sounds and flavors to Harrison Park, including a pop-up farmer stand.
This year's line-up of local musical talent runs the gamut of genres, which categorize the jazz circuit. The series kicks off with the laid-back guitar styles of the Tom Davis Trio, to the energetic swing, ragtime and pop influences of The Dew Droppers the following week. Acclaimed saxophonist Pete Mills will bring his modern saxophone-driven quartet to the stage, while local group La Charanga Tres will conclude the series finale with their lively Cuban and Latin-influenced jazz arrangements.
Adding to the local vibe, Yellowbird Foodshed will host a pop-up farmer stand for two of the concerts where residents and patrons can shop seasonal, local Ohio produce.
"We're excited for this year's diverse lineup of jazz musicians and food trucks," said Mark Subel, co-founder of the series. "Each year the series has grown in popularity and we expect it to continue this year as more jazz fans and the community comes together."
2015 Harrison West Jazz Stage Concert Line-up: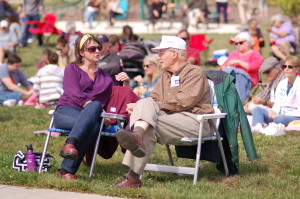 The Harrison West Jazz Stage will take place each Sunday in September from 1 p.m. – 2:30 p.m., starting on September 13th and ending on Sunday, October 4th. Concerts will be held around the Harrison Park Gazebo located at West First Avenue and Harrison Park Place. All performances are free to the public. Food may be purchased from participating food trucks. A rain date of October 11 has been established in the event of inclement weather on any of the scheduled dates.
The series debuted in 2013, founded by local couple Mark Subel and Dara Schwartz in a combination of their love of both jazz and their neighborhood. Each week hundreds residents flock from all over the city to relax on a Sunday afternoon and take in the sounds of jazz set against the riverside park and gazebo. Cheers to the sponsors who are helping to make it all possible again this year: Cap City Diner, Wagenbrenner Development, Bunn Minnick Pipe Organs, CoverMyMeds.com, Councilmember Zach Klein, Harrison West Society, Integrated Building Systems, Jazz Arts Group of Columbus, Katalina's, The Short North Foundation and Ken Wightman, Berkshire Hathaway Home Services American Realty Center.
Founded in 2013 and performing in the gazebo at Harrison Park, the Harrison West Jazz Stage seeks to celebrate the work of local jazz musicians across a variety of genres, foster community among neighbors and raise the profile of the Harrison West neighborhood. For more information, visit www.Facebook.com/HarrisonWestJazzStage