Short North Yard Sale 2015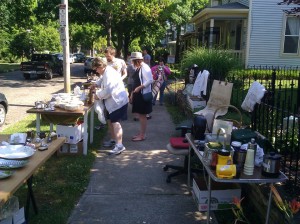 The Short North Civic Association will host this year's Short North Yard Sale on Saturday, June 6th from 9:00 a.m. to 3:00 p.m. The daylong treasure hunt takes place in the neighborhoods in and around the Short North, including Victorian Village, Harrison West, Italian Village, Dennison Place, and The Circles. More than 150 homes participated in last year's sale, making it the largest neighborhood yard sale in Columbus.
If you are interested in being listed on the official Short North Yard Sale map, you may use this link to register your sale.
A full listing of sales with descriptions of items can be found on the Short North Yard Sale website here: https://sites.google.com/a/victorianvillage.org/yardsale/

Print Friendly