Welcome New Officers!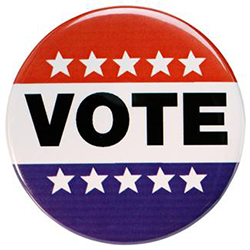 At the May 16, 2012 Harrison West Society meeting, members elected a new slate of officers. Kristen Easterday has surrendered her role as vice president to become president of the society. Dara Schwartz has been elected vice president, Dean Curry takes over as treasurer, and Mary Martineau is now our secretary. Their candidate statements are available here. All ran unopposed and were selected unanimously. Please congratulate them when you see them around the neighborhood.
We would also like to thank our outgoing officers for their many years of service to our neighborhood and our society. Rob Harris has stepped down as president after many years in the position. Rob was recently awarded an Unsung Hero award by the Short North Business Association; he has certainly earned his rest. Dick Montgomery has mailed the society checkbook to Dean. Dick has been treasurer for a number of years, but he finally succumbed to the weather in Florida. We'll miss not only his fiscal discipline but also his ever-grinning face around the neighborhood. Even though he's given away the title of secretary, Tim Bledsoe plans (we think and hope!) to remain active in the society as the social committee chair. We're expecting even bigger and better parties from Tim now that he has only one hat to wear!
The new officers have hit the ground running. At the meeting, two motions were made to authorize them to act on the society's behalf for particularly time-sensitive issues. They will be composing and sending a letter to Columbus City Council seconding the University Area Review Board's opposition to the proposed development at the northeast corner of Fifth Avenue and High Street and will be moving quickly to try to secure Urban Infrastructure Recovery Funds for one or more of the neighborhood's improvement priorities.