Short North Yard Sale 2016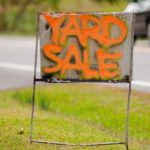 The Short North Civic Association will host this year's Short North Yard Sale on Saturday, June 4 from 9:00 a.m. until 3:00 p.m. The day-long treasure hunt takes place in the neighborhoods in and around the Short North, including Victorian Village, Harrison West, Italian Village, Dennison Place and The Circles. More than 180 homes participated in last year's sale, making it the largest neighborhood yard sale in Columbus.
You can see a listing of sales and a map on our website. Check back often as more sales register. Short North residents may register their sale at yardsale.shortnorthcivic.org
Make It a Charitable Day
Neighbors without yard space can also support the Hubbard Mastery School PTO by renting a vendor space at the school, which is located at 104 Wext Hubbard Avenue, during the sale. One-hundred percent of proceeds go toward supporting the PTO. The deadline to reserve space is May 30, 2016, and renters must bring their own complete setup.
Businesses can rent a 10 × 10 space for the day for $40. For more information and to reserve space, businesses can click here: http://www.friendsofhubbard.org/bazaar-signup/.
Residents can set up a table and make a donation to the PTO (suggested $10). To reserve a space, residents should email anne@columbusunderground.com and specify if they would like an indoor or outdoor space.
Hubbard Mastery School will also be hosting a shoe drive on the day of the yard sale. The school will accept pairs of gently worn shoes (no singles, please) and will partner with funds2orgs to send them to a developing country to help them build up their economy.
Goodwill will also be at the school from 12-4p on Saturday so neighbors can donate any unsold items.

Print Friendly