Out of the Closet Thrift Store & Pharmacy Set To Open this Summer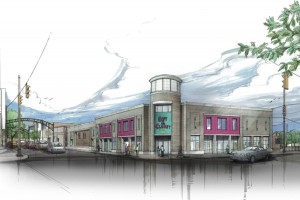 Full story via Columbus Business First
by Carrie Ghose
The "Out of the Closet Thrift Store" to be operated by the country's largest AIDS research and treatment nonprofit could open on High Street and Fifth Avenue by late summer, closing one of the last development gaps between the Short North and Ohio State University campus area.
The brick facade in the final store rendering that Fort Lauderdale, Fla., architect James Hollingsworth provided for Columbus Business First is quite different from the pink-and-turquoise look of the 22 stores mainly in California and Florida operated by Los Angeles-based AIDS Healthcare Foundation. That color scheme was never proposed for Columbus, but pops up in the trim.
"It's a beautiful building," said Adam Ouderkirk, the foundation's interim senior director of business development who's overseeing its first Midwestern operations. "In California, we don't tend to use brick because it always breaks in earthquakes."
The foundation started construction in January on the $3.1 million store and last month opened its first STD clinic in the Midwest in an office near Mount Carmel West hospital in the Hilltop neighborhood.
Both locations will offer free STD testing and the store will include a pharmacy for HIV medications. The pharmacy has been operating at a temporary High Street location since August, Ouderkirk said.
The foundation seeks areas with a growing need for services to those living with HIV and AIDS, he said.
In Franklin County, nearly 3,800 people have HIV, a number that steadily grows by about 200 new diagnoses a year, according to the Ohio Department of Health. The prevalence of the virus in the county is twice the rate of infection statewide, and the county's incidence rates of STDs such as chlamydia and gonorrhea also exceed the statewide rate, according to the Franklin County HealthMap compiled by the Central Ohio Hospital Council.
"We really felt that we needed to be out and serving underserved areas," Ouderkirk said. The foundation will augment the health and other services provided by AIDS Resource Center Ohio, he said.
The organization has been approved as an Ohio Medicaid provider and also accepts Medicare and private insurance. More than half its annual revenue comes from the thrift stores that sell donated clothing and home goods.
It's been nearly a year since the foundation brought its first design proposals to the city. The main disputes were over height and parking access, said Daniel Ferdelman, urban designer in the Planning Division. The neighborhood's plan calls for two-story buildings; the final design is a 45-foot-tall one-story, 6 feet higher than the original design. The city prefers not to have driveways cutting across High Street sidewalks but agreed that Cortland Street behind the lot is too narrow for all the store's traffic, he said. The store's entry will allow right turns off northbound High but no left turns off High into the lot.
"The city has been wonderfully responsive," Ouderkirk said.
** Rendering courtesy Hollingsworth Architects and Planners