"From Russia with Love" February 19 at the Short North Garden Theater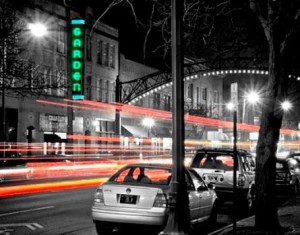 The Johnstone Fund for New Music will present a contemporary classical music concert called From Russia with Love on Wednesday, February 19 at 7:00 p.m. in the Green Room of the Garden Theater. This one-hour performance is part of the "New Music Salon at Short North Stage" free concert series, crafted under the artistic direction of Sunday at Central. Seating is limited and is available on a first-come first-served basis.
The program features renowned Columbus musicians David Niwa (violin), Leonid Polonsky (violin), Olev Viro (violin) and Mariko Kaneda (piano) performing works by composers with connections to the Soviet Union and the great musical flowering of the Cold War. Among the pieces to be performed are Sergei Prokofiev's Sonata for Two Violins (1932); his grandson Gabriel Prokofiev's Side Dance, Clock Work and Fky House for solo piano (2006); Canon for Three Equal Instruments (In Memoriam Igor Stravinsky) by Elliott Carter (1971); Valentin Silvestrov's Lullaby, Pastorale, Bagatelle, and Postludium for solo piano (1973); and Spiegel im Spiegel for violin and piano by Arvo Pärt (1978).
The Green Room will be transformed into a spring garden in honor of Short North Stage's Rogers and Hammerstein Broadway musical revue A Grand Night for Singing. This woodsy and romantic in-the-round setting will profoundly enhance the experience for concertgoers, as Rogers and Hammerstein's musicals were written during the Cold War era in a time of artistic reinvention.
This performance is recommended for ages 9 and older. The Garden Theater is located at 1187 North High Street in the Short North. Parking is available at a lot just south of the theater and at nearby meters. Free street parking is available after 6:00 p.m. on weekdays on the south side of Fifth Avenue west of High Street around the corner from the theater.
The next free New Music Salon at Short North Stage concert takes place on June 4. A Grand Night for Singing runs from February 6-23.
More information about New Music can be found at en.wikipedia.org/wiki/art_music and en.wikipedia.org/wiki/contemporary_classical_music.
About The Johnstone Fund for New Music
Columbus community leaders Jack and Zoe Johnstone founded the Johnstone Fund for New Music in 2008. It supports the continuing growth and vitality of new music and aims to position Central Ohio as a powerful incubator of this inventive art form. In addition to offering grants to commission the creation and performance of new works, the Fund inspires collaboration between composers and musicians.
About Sunday at Central
Sunday at Central is a nonprofit chamber music recital series that was founded in 1994. It offers intimate, personalized traditional chamber music concerts with internationally recognized professional musicians. David Niwa (Acting Associate Concertmaster, Columbus Symphony) is the organization's Artistic Director. Its 2014 recital series is funded in part by grants from the Greater Columbus Arts Council and Ohio Arts Council.
About Short North Stage
Short North Stage is a professional regional theater company that resides at the historic Garden Theater in the Short North Arts District. Dedicated to presenting first class productions with an emphasis on musicals, it offers everything from small cabaret acts to full-scale theatrical productions.
Contact Alexandra Fox: alex@alexandra477.com