Rodent Study Scheduled; Tips to Deter Rats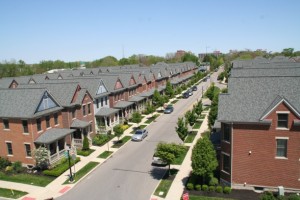 At the the November 20, 2013 Harrison West Society meeting, representatives from Columbus Public Health gave a presentation on preventative measures residents can take to help control rat infestations in and around the Harrison West neighborhood. You may recall that earlier this year, neighbors in the western portion of Harrison West spotted rats in and around their properties; the infestation seemed to be spreading south and east.
As a result of increased reports of sightings by Harrison West residents, the city of Columbus will conduct a rodent assessment shortly after the Thanksgiving holiday. A team from CPH will be choosing several blocks in the neighborhood, observing any rat activity and going door to door to inform residents about preventative measures and about any improvements they can make on their properties to help curb the infestation. After its assessment, the city will provide to the society a report outlining their findings and describing any actions the city will take in the future.
City representatives at the meeting encouraged residents to look for potential infestations or evidence of rats and to minimize activities that may foster the growth of the rat population.
What to Look For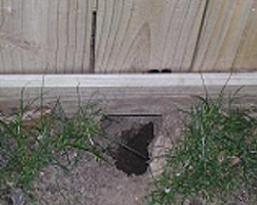 Rat burrows: These are holes in the ground 2-4 inches in diameter where rats may be living. Look for burrows under fences, buildings, homes and cement slabs surrounding structures.
Rat tracks: In the Winter, you may be able to spot rodent tracks leading to or from a burrow.
Things YOU Can Do to Keep Rats Under Control
Pick up pet feces: Rats eat dog and cat feces so be sure to pick up after your animals.
Bird seed: Keep bird seed under control and in the feeder as much as possible. Rats are drawn to bird seed on the ground.
Tree fruit: Pick up any fallen tree fruit.
Trash: Make sure trash is properly bagged and covered. Rats love to dive into open cans and root through trash on the ground. Tie up your trash bags and store them in covered containers until they can be disposed of properly.
Damaged trash cans: If your city-provided trash receptacle is damaged, report it using the city's 311 call center (645-3111). The city will repair or replace it at no cost to you.
Compost piles: Unattended compost piles and compost piles not properly contained provide food to rats. Make sure your compost is maintained and covered.
Yard waste and building material: Make sure your yard is properly maintained and that yard waste is properly disposed of in yard bags. Stack building materials, lumber and firewood at least 18 inches above the ground.
Cover Openings: Don't give rats a place to live. Cover openings that are greater than 1/2 inch in diameter with concrete, sheet metal or hardware cloth.
Screen basement windows: Cover windows at or near ground level with hardware cloth (wire mesh).
Cover basement drains: Cover accessible drains in your basement with hardware cloth or a drain cover.
If all else fails: If you continue to have rat problems after taking the simple steps outlined above, call a professional exterminator.
Report Rats
Additional helpful rat prevention tips can be found at http://www.wildlife-removal.com/ratprevention.html