Free "Ultimate String Quartets" Concert at Columbus Museum of Art May 19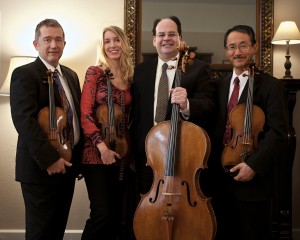 Nonprofit recital series Sunday at Central presents "Ultimate String Quartets" by The High Street Four on Sunday, May 19 at 3:00 p.m. in Columbus Museum of Art's Cardinal Health Auditorium. The performance is free, and guests will have free access to galleries in CMA's permanent collection.
Featuring violinist David Niwa (Artistic Director of Sunday at Central and Acting Associate Concertmaster, The Columbus Symphony); violinist Ariane Sletner (Associate Musician, The Columbus Symphony); Ken Matsuda (violist, The Columbus Symphony); and Luis Biava (Principal Cellist, The Columbus Symphony), The High Street Four will perform Béla Bartók's Second String Quartet and Ludwig van Beethoven's Opus 59, No.3.
Second String Quartet is regarded as one of Bartók's most beautiful and challenging compositions. It was written in Hungary between 1915-1917, and was influenced by eastern European folk music and the works of Claude Debussy. Opus 59, No. 3, which was published in 1808, is a backbone of string quartet repertories. It's a triumphant example of Beethoven's imaginative resources and ends with a hair-raising, lightning fast finale.
The 90-minute season finale concert will begin with a brief "informance" about the compelling themes and folk roots of Bartok's work, during which audience members are welcome to ask questions.
This program is recommended for ages 9 and older. Columbus Museum of Art is located at 480 East Broad Street and parking is free. Donations to Sunday at Central will be graciously accepted.
About The High Street Four
The High Street Four was founded in 1996 and features violinists David Niwa and Ariane Sletner, violist Ken Matsuda, and cellist Luis Biava. Driven by a strong desire to balance contemporary music with traditional repertoire, it performs throughout Central Ohio and has played U.S. and world premieres of works by Hye Kyung Lee, Krysztof Penderecki, and Gunther Schuller. The string quartet is regularly featured at The Ohio State University's Contemporary Music Festival and has frequently been featured on WOSU Radio's MIMO (Music in Mid-Ohio) broadcasts.
About Sunday at Central
Sunday at Central is a nonprofit chamber music recital series that was founded in 1994. It offers intimate, personalized traditional chamber music concerts with internationally recognized professional musicians. Its 2012-2013 recital series is funded in part by grants from the Greater Columbus Arts Council and Ohio Arts Council.
Contact
Alexandra Kelley Fox: alex@alexandra477.com
Facebook.com/sundayatcentral
sundayatcentral.org