Columbus Italian Parade & High School Marching Band Competition 2013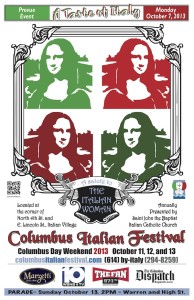 The Columbus Italian Parade is a celebration of all things Columbus and Italian and Italian Columbus.  On Sunday, October 13th, The Columbus Italian Festival will end the weekend festivities with the Columbus Italian Parade.  And we would love to have you in our parade.  Gather your friends and/or non-profit business associates and enter a float for the parade!
Not only will there be at least five Competing High School Marching Bands, you'll see Italian Dancers, Santa Maria Replicas, Classic & New Cars, and other entries featuring Columbus and Italian History & Culture.  It's a parade even Christopher wouldn't miss!
Starting at 2:00 p.m., the parade will march its way through the Short North Arts District and Italian Village.  The Columbus Italian Parade ends at the Columbus Italian Festival's big top tent where High School Marching Bands will make their final competition performance at the main tent to determine the Best in Show!  One High School Marching Band will be awarded a Columbus Italian Parade Champ Trophy and awarded a large cash prize!
Below is information about the parade, such as where to watch it and how to be in it.
Parade – Route:
From Goodale Park (Dennison Avenue) to East on Buttles, North on High Street, East on Warren Avenue to end at Fourth Street.  Bands continue on into the Columbus Italian festival for the High School Marching Band Competition.  Vehicles in the parade will be provided parking in Jeffrey Place across the street from the festival, for those wishing to go into the festival after the parade.
Parade – Line-Up:
Bands begin Line-up at 12:30 p.m.
Automobiles begin Line-up at 1:00 p.m.
Walkers begin Line-up at 1:00 p.m.
Rules:
Please do not throw items (such as candy) from the parade. You may "hand deliver" items to spectators along the parade route. NO EXCEPTIONS PLEASE!
All vehicles must be driving by an insured licensed driver.
Registration:
All entries must submit a registration form. (Please click link http://www.columbusitalianfestival.com/parade  or see attached form) and mail to contact below.
Fees:
Politicians, Political Parties and/or Political Issues groups must pre-pay $100 Registration Fee.  Payment must be made prior to the parade.  Please make checks payable to Columbus Piave Club and mail to Parade Registration Address below.
Parade Registration Address:
Deb Roberts
Columbus Italian Parade Executive Coordinator
581 Reinhard Avenue
Columbus, OH  43206-2854
Or Email:  mzdoodah@yahoo.com
Questions? Phone for more information:  (614) 228-1868

Print Friendly