2017 Harrison West Holiday Party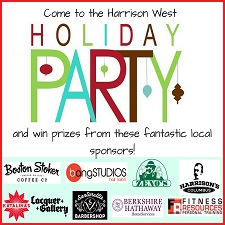 In lieu of a meeting this month join us on Wednesday, 12/20, starting at 7 pm in the basement of Zeno's at 384 West 3rd Avenue for the annual Harrison West Holiday Party! This is a great opportunity to sign up or renew your Harrison West Society membership and receive a free drink. The celebration is open to everyone living in Harrison West.
This year's party includes:
– Canned food drive for local food pantry, NNEMAP: Vegetables and stews are most needed
– Free pizza and appetizers
– Ugly sweater contest and raffle with prizes
– Neighbor of the year award
– One free drink for Harrison West Society Members
– Dessert Potluck, bring a dessert to share
Special thanks these great local businesses for sponsoring and providing some great goodies: Boston Stoker Coffee Company; Bang Studios; Zeno's; Harrison's on Third; Katalina's Cafe; Lacquer Gallery; Santarelli's Barbershop; Fitness Resources Personal Training; Ken Wightman, Realtor; and Wagenbrenner Development.