Holiday Hop Pop Up Shop on Saturday, December 7 at The Garden Theater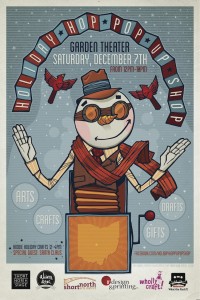 Local artisans, crafters and purveyors of fabulous homemade and handmade goods are commandeering the Garden Theater on Saturday, December 7, 2013 from 12-10 p.m. for one amazing day of holiday shopping at the Holiday Hop Pop Up Shop! More than three dozen vendors will be selling a variety of items that are sure to help you finish off your holiday shopping list and, perhaps, pick something up for yourself if you've made Santa's "nice list" this year (or maybe even if you've been just a little naughty).
There's sure to be something to entertain everyone at the Holiday Hop Pop Up Shop. Bring the kiddies in from 12-4 p.m. for craft activities. They can create an ornament for the tree or a faux stained glass window.  No shopping trip is complete without a Santa Claus sighting and Old Saint Nick will be taking requests from 12-4 p.m. and beyond. Stage Left, the bar inside the Garden Theater will feature special (and warm) holiday drinks. They will also be serving seasonal beer from The Actual Brewing Company including Fat Julian Imperial Stout, Ingenuity Lemongrass Saison and Orthodox Winter IPA.
Participating vendors include:
AlisonRose: apparel and accessories silk-screened with original designs
Annette Lasker Art & Illustration: holiday cards, keychain charms, coin purses, puff and stuffs, art prints
Beaniestalk: upcycled leather and suede hair accessories and jewelry
beau and pearl: handmade jewelry and accessories
Ben Boh Botanicals: vegan soap and body products
Black Market: handcrafted jewelry, hand knit scarves, crocheted hats
Clinton Reno: hand-screened illustrations and indie rock posters
Corazon y Mano: jewelry, knitted items and coasters
Crafty Beavers: knitted kitty hats, plush kitties, marble magnets, scarves and arm warmers
Creux Poche: fabric bowls, baskets, candle holders and bookmarks
Dragon Ikka: Japanese calligraphy art and jewelry
Ecomaram: felted wool flowers and accessories, bags, sewn artwork, map pins
Ethix Skincare: Queen Anne's face cream, DIY lip balm kits and aromatherapy sprays
Good Food Bakery: gluten-free baked goodies and tasty treats
Green Handle Designs: handmade jewelry and duct tape accessories including flowers and clutch purses
Hev-Vin Designs: tote bags, messenger bags, bunting banners and pillow shams from feed sacks and felted sweaters
Homohio: original screen printed t-shirts with Ohio and GLBT-positive messages
Honeyrun Farm: raw and infused honey, beeswax candles, soap, lip balm and bee pollen
humble soap co.: handmade vegan soap
Igloo Letterpress: cards, gift wrap, books, tags, coasters and bookplates
Jennifer Sadler Designs: jewelry designs incorporating repurposed elements including vintage beads and telephone wire
Jennifer's Custom Designs: vintage-inspired, steampunk and repurposed jewelry
Jewelry by M.E.: metal clay jewelry
Juli Rogers: notecards and holiday cards with original designs and witticisms
Once Upon a Time, Again: recycled Golden Book Journals and Disney Autograph Books
Patrice Lehocky Designs: dinnerware deconstructed: jewelry from broken China dishes
Pattycake Bakery: sticky buns, cupcakes, cookies and whoopee pies
Poor Sparrow: necklaces, bracelets, earrings and rings
Poshta Design: handcrafted paper goods including greeting cards, calendars and magnet sets
Red Giraffe Designs: jewelry, home décor and accessories
Sharone Putter: original prints and enameled jewelry
Shaterra: repurposed jewelry and leather accessories
Soaps n Suds: soaps, bath and body products
Sweettooth Studio: lamp-worked glass bead pendants, earrings, key chains and bookmarks
Transformations: coasters and mirrors with Short North and comic book images, upcycled sweater hats
Umbrella Girl Productions: potholders, kitchen towels, sewn stationery and hair scarves
Wholly Craft!: handmade goods from more than 200 artisans and crafters
Zebra Pie Gifts: 100% soy candles, glass tile jewelry and handmade greeting cards
The Holiday Hop Pop Up Shop will take place at the Garden Theater on Saturday, December 7 from 12-10 p.m.  Admission is free to The Garden Theater located at 1187 North High Street, Columbus, OH 43201. For more information please visit our Facebook page https://www.facebook.com/HolidayHopPopUpShop