The Market at 15th & High: Fresh, Local and Accessible
By Dara Schwartz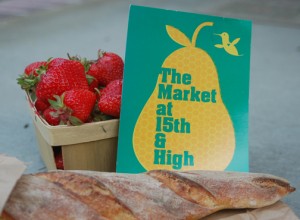 Inspired by a visit to a farmers' market at the Museum of Contemporary Art in Chicago, Bill Horrigan, Director of Media Arts of the Wexner Center for the Arts, was convinced a similar market concept, coinciding with the Wexner Center, would be just as successful with the vision of providing the community access to fresh, local, nutritious food.
Determined to bring this idea to fruition, local Columbus advocate and loyal Community Supported Agriculture (CSA)* member of Wayward Seed Farm, Shelly Casto, Educational Director of the Wexner Center, joined forces with Jaime Moore, co-owner of Wayward Seed Farm, in efforts to organize the largest farmers' market on Ohio State University's campus. These women had their first planning meeting shortly after the new year and four months later, on May 27, The Market at 15th & High proudly launched with 12 local vendors offering a wide range of products ranging from fruits, vegetables and meat to herbal soaps and fresh flowers.
"The university employs over 20,000 people and there are people living around this area. It's about bringing access to a community that is underserved," said Moore.
The outdoor market, rain or shine, will be available to the public from 4 -7 p.m., every Thursday, through October 28 on the Wexner Center Plaza at the Ohio State University, 1871 N. High Street.
"We chose Thursday evening so we could allow people from the campus and the neighboring communities to do their shopping on their way home from work" said Amanda Potter, Educator for Public and University Programs at the Wexner Center and committee member of the market. "It also coincides with the Wexner's weekly free admission gallery hours (every Thursday 4–8 p.m.) and our three Wex Drive-Ins, which begin June 17, so we hope people will also come check out our exhibitions and films before or after checking out the market."
Owner, Mary Beth Morrison, of P's Kitchen, has been a vendor for the past eight years at the Clintonville Farmers' Market and is excited to expand to the Market at 15th & High. P's Kitchen offers specialty dessert breads, such as lemon poppy seed, to specialty cakes like key lime and raspberry. When the season permits, Morrison gathers her fresh ingredients from her sister's berry farm in New Concord. As Morrison finished explaining her best-seller item at the Clintonville market, the Strawberry Rhubarb Oat Dessert, a new customer had soon after approached the stand, and without hesitation ordered just that.
Bill and Sonie VanScoy, husband and wife owners of VanScoy Farms, have owned their farm for 27 years. They began growing hydroponic vegetables in 1999 and are now one of the largest hydroponic growers in Ohio. Bill VanScoy explained that they grow their vegetables in shredded coconut and bark, using bumble bees to pollinate their crops and use all natural predatory insects to control the bad insects. Purple and green beans to beefsteak tomatoes and cucumbers can be found at the VanScoy's stand. "Everything you see here was picked today," said VanScoy.
Breadmaker and owner of Petite Boulangerie, Daniel Riesenberger, built his own brick oven out of his home and began making fresh-baked artisan bread. He crafts a variety of artisanal breads utilizing a sustainable sour dough starter instead of conventional yeast. His offerings include baguettes, asiago and rosemary boules, and scones. Riesenberger uses local ingredients, including berries and vegetables in all his breads and baked goods. His top seller, Normandy rye bread, is made with local fresh apple cider.
Vendors at The Market at 15th & High include: Anderson Orchard (fresh-cut flowers), Hirsh Fruit Farm (home grown strawberries and apple cider), Jorgensen Farms (organic lamb and culinary herbs), Luna Burger (vegan burgers), P's Kitchen (fresh baked goods), Petite Boulangerie (fresh-baked artisan breads), Speckled Hen Farm (heirloom poultry), Stonefield Naturals (organically grown vegetables and pork), Sycamore Circle Heritage Farm (herbs, tea and soaps), VanScoy Farms (hydroponic veggies) and Wayward Seed Farm (fruit and vegetables).
Throughout the market season, OSU students will play acoustic music, and University District musicians will perform on the plaza. A community-outreach table will be available for student or University District organizations that want to share information about their missions.
100% of the market's proceeds go directly to local farmers. Food stamps and W.I.C. are accepted by some vendors. At the end of each evening, left over produce will be donated to a University District food pantry.

The Market at 15th and High will be open every Thursday, May 27-October 28, 4-7 p.m., at the Wexner Center Plaza, 1871 North High Street, Columbus, Ohio.

* A CSA program consists of community members who support local farmers by contracting to receive weekly shares of vegetables and fruit and sometimes, dairy products and meat that have been grown and fed on their farm.

Print Friendly