Resident Profile – Richard and Adrienne Ruenzi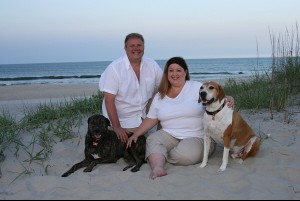 by Mary Martineau
11 Questions with Harrison West Residents Richard and Adrienne Ruenzi:
1. What is your full name and its origin, or how was it given to you? Are you named after anyone? Do you have any nicknames?
Adrienne Jaclene Ruenzi. I'm not sure how they came up with my first name except my dad wanted something that couldn't be shortened into a nickname. I was supposed to be a boy, and they were going to name me Jack after my Grandfather. (Jack was his nickname; he and my dad are named John. Go figure.) When I came out a girl, they made up my middle name. My sister was Eileen, so I guess Jaclene makes sense in some parallel universe.
Richard Louis Ruenzi II. Rich is named after his father. His mom didn't want him to be called "Junior," so while he is technically a junior, they went with "II" instead. His dad is Rich, and he has always been Richie. His middle name is after his grandmother, Louise.
2. How old are you?
Rich 41. Adrienne 38.
3. Where do you live in Harrison West? Do you own your house or rent?
The best street in the neighborhood: Bradley Street. We own our home, and we have lived there for 10 years.
4. What brought you here (HW) and where did you live before?
We were living in the 'burbs. We both really wanted to move into the neighborhood, and at the time, the only way we could afford it was to buy a "fixer upper." We received a condemnation notice from the city the day after we closed. It was more "fixer" than "upper," but we were able to make it our own. We love it.
5. Where were you born and where did you grow up?
Adrienne: I was born at St. Ann's Hospital, and I grew up in Gahanna.
Rich was born at St. Ann's Hospital and grew up in Bloom Township.
6. How did you end up in Columbus if you are not from here?
Columbus proper was a hop and a skip from Gahanna and a jump from Bloom Township.
7. Did you go to college? If so, where and what did you study?
Adrienne: I went Franklin University, graduated with a bachelor's in accounting.
Rich went to Ohio University and Hocking College studying chemical engineering.
8. What do you do for a living? How did you end up in that occupation?
Adrienne: I am a tax director at Nationwide Insurance (a "tax geek"). I'm convinced it's because I'm a New Year's Eve baby. The doctor's gave my mom the choice of trying to hold me off until January 1, to which she replied, "Hell no! We need the tax deduction." Yes, that is a true story.
Rich: Sales Rep, Invisible Fence. You don't have enough time for a story that long.
9. What do you like to do for fun?
We like to throw parties (like our "Locals Only" party this spring), listen to live, local, original music, hang with friends at Caffé Apropos, drink beer and/or wine on our neighbor Timmy's porch and "chilaxin'" with our two handsome hound dogs.
10. What do you like about living in Harrison West?
We love being surrounded by like-minded people who care about community and having fun and being close to all the great events Columbus has to offer. It doesn't hurt that it's not the suburbs either. Most of all, we love our neighbors. I look forward every spring to that one night when it's finally nice out and we all come home about the same time and end up drinking wine or beer on someone's porch catching up after hibernating through January and February.
11. What are your favorite places to go out? Do you frequent any of the neighborhood businesses?
Caffé Apropos and Katalina's are our staples in the neighborhood. Our favorite restaurants are Da Levee and  El Arepazo. We love all things North Market. Woodlands, Rumba Cafe and Brother's Drake are our favorites for listening to local music.