Open House – Pearl Street, Eden Alley and Public Parking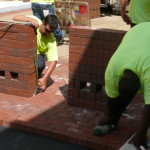 You are cordially invited to an open house for the community on the Pearl Street, Eden Alley and Public Parking Improvements
April 26, 2016, 5 – 7 p.m.
Le Meridien Columbus, The Joseph Hotel
620 North High Street
Short North
The city of Columbus departments of Development and Public Service are collaborating to make improvements to the Pearl Street and Eden Alley area in Short North. The finished project will facilitate better stormwater drainage, improve roadways, provide additional parking and upgrade pedestrian facilities.
The project is scheduled to begin construction in May 2016, pending funding approval, contractor selection and weather conditions, and include:
Resurfacing roadways
Building and upgrading Americans with Disabilities Act–compliant curb ramps
Increasing public parking spaces
Improving drainage facilities
Questions regarding project information may be directed to City of Columbus Design Project Manager Rick Miller, P.E., (614) 645-3977.
More details are available on this PDF file.

Print Friendly