Kick off the Holiday Season at the Ohio Statehouse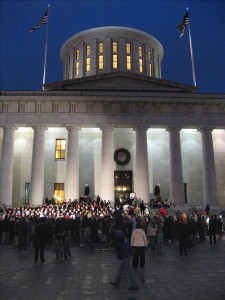 It's almost that time of the year again to grab your loved ones and bring some holiday cheer to celebrate The Ohio Statehouse Holiday Festival and Tree Lighting. Save the date and join in on the fun at this year's celebration on Tuesday, December 3, 2013 from 5:30 p.m. to 7:30 p.m.  This free family-friendly event is open to the public.
The festival marks the beginning of the holiday season on Capitol Square and throughout all of central Ohio. The indoor ceremony will consist of a short program, welcoming Santa and Mrs. Claus, followed by the lighting of our historically decorated holiday tree. The festivities will then continue with refreshments, arts and crafts activities, games and special performances by local bands and choirs. There will also be a free photo station available to capture your families' moment with Santa and Mrs. Claus.
Come and join us for this magical night at the Ohio Statehouse to start off your holiday season! Convenient and affordable parking is available during the event in the Ohio Statehouse underground parking garage.  Parking rates are available at www.ohiostatehouse.org.