Business Profile – Designs by Doe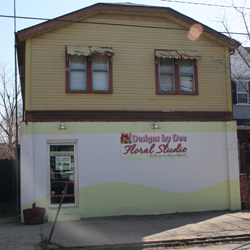 By Mary Martineau
Designs by Doe—tucked into the back of a building on the southeast corner of Michigan and West Third avenues—specializes in creating unique floral gifts that incorporate customer ideas into their designs. The founders, R. Allen Dodson and his mother (dubbed "Doe" by her father), named their business "Designs by Doe" because they wanted to focus on specialty and custom work rather than just flower delivery. They felt that "Designs by Doe"—rather than "Flowers by Doe" or something similar—better communicated their vision. Through the years, their philosophy has translated into a business focused on individual customers and their particular gift-giving wants and needs. Want to include Godiva chocolates? A handmade card? Designs by Doe can to that!
R. Allen Dodson is a career florist. He started out making deliveries for Lane Avenue Flowers at the age of 18. He partnered with various other florist operations until starting his own company with his mother. The mother and son venture arrived in Harrison West by way of their friendship with Sandy Moneypenny. Sandy owns the building at 1110 Michigan Ave., and in 2003, she suggested to the pair that she had the perfect space available for their new business. Sandy convinced them that Harrison West, which was growing and improving by leaps and bounds, is a fabulous place to set up shop, and they opened in the space where Designs by Doe resides today.
Designs by Doe is happy to be a part of the spirited Harrison West community. Dodson has witnessed plenty of upward growth and shares with residents and other local businesses pride in the strides of the neighborhood. He likes being in a place where folks pick up trash from sidewalks not their own and have strong block watch tendencies; a place where front doors mistakenly left unlocked elicit a concerned phone call to the owner rather than a missing flat-screen TV or computer. Quite simply, says Dodson, "people care in this neighborhood. It's a community, not just an address to come home to." He also appreciates that many people in the Short North understand the importance of supporting small local businesses; he incorporates small-business patronage into his own lifestyle.
Dodson looks forward to Designs by Doe being a part of Harrison West and the surrounding communities for many years. He is happy being a small-business owner in a good neighborhood. He is very comfortable in Harrison West and views it as a popular destination for visitors as well as a place for new residents and businesses to settle down. Dodson sees growth potential in the Third Avenue strip, especially given the strong businesses that are already there. While Designs by Doe depends heavily on Internet sales, marketing and its Website (http://www.designsbydoe.com), Dodson really enjoys his brick and mortar store in Harrison West and sees it as integral to his business operation.