Bike Path Improvements to Connect Multiple Neighborhoods including Harrison West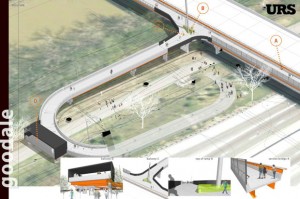 Full article via ColumbusUnderground
More construction is coming to Goodale Street this summer as work begins on a new bikeways connector that will help convert this auto-centric stretch of Downtown roadway into a more pedestrian and bike-friendly corridor. The project will connect Goodale Street to the existing bike trail that runs along the Olentangy River, which is currently inaccessible due to the river on one side of it and State Route 315 on the other. You can read more about the Harrison West Olentangy Trail Connector project.
Full article via ColumbusUnderground
Rendering created by URS Corporation.