Construction on West 3rd Avenue to Begin (Finally!)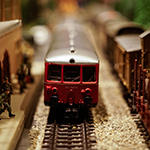 The city of Columbus is continuing its initiative to improve the public infrastructure on West 3rd Avenue between Olentangy River Road and Edgehill Road. The project will facilitate traffic flow, improve safety and provide pedestrian and bicyclist accommodations. Construction on the final phase will begin Nov. 28, 2016, and end in autumn 2017, subject to weather conditions.
Work Starting November 28
Contractor will lay conduit on West 3rd, which is expected to take two weeks subject to weather conditions.
No lane closures or detours will be needed. Traffic will be maintained by flaggers. Please slow down and follow flaggers' directions.
Work will stop once the conduit is finished then resume on January 2, 2017.
Work in 2017 will require lane closures and/or detours, details of which are still being finalized. More details will follow in the coming weeks.
Improvements include
West 3rd, approximately 375 feet west and 400 feet east of the CSX railroad bridge
Widen and reconstruct roadway
Construct a new two-span railroad bridge
Build curbs, Americans with Disabilities Act (ADA)-compliant curb ramps, sidewalks and shared-use path
Upgrade street lights, signs and underground cables for traffic signals
Plant street trees and landscaping
Rail Street between West 3rd and 300 feet south of West 3rd
Construct new roadway
Build curbs, ADA curb ramps and sidewalks
Upgrade street lights and signs
Edgehill and West 3rd intersection
Install new traffic signal
Build sidewalk, ADA curb ramps and bike path connections to Bobcat Avenue
Edgehill and West 5th Avenue intersection
Install new traffic signal
Build curbs, ADA curb ramps and sidewalks

Print Friendly