Trick or Treat Halloween Party at North Market and Columbus Children's Theatre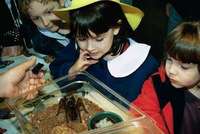 Come one, come all ye tiny ghouls, goblins, transformers and otherwise Halloween-adorned tots. The North Market will host its annual childrens' Halloween party and trick-or-treat bonanza on Sunday, October 31 from 12-3PM.
Scheduled Halloween Party activities include:
• North Market merchants open at 12-5PM.
• Trick-or-Treating at the North Market, 12-3PM while candy supplies last
• Backstage tours, cupcakes and punch at neighboring Columbus Children's Theatre
• Mark Wood Fun Show, 12-3PM
• Crafts with the Columbus Artmobile, 12-3PM
• Bounce house on the patio, 12-3PM
• Face painting, 12-4PM
• Bugman Enterprises with creepy crawlies, 1-3PM
• Melody the Clown, 1-3PM
If you've always wondered what goes on behind the scenes at Columbus Children's Theatre this is your chance to find out! Our neighbors will have their theatre open with cupcakes and punch for your little Drama Queen or King and will be giving backstage tours of the facility. Staff members will be on hand to answer all of your questions about classes, performances and other ways your child can be involved in the arts in Columbus.
The North Market Halloween Party runs Sunday, October 31 from 12 p.m. to 3 p.m. and is a free event for all costumed youth from toddlers to twelve-year-olds. For more information, please call the North Market at (614) 463-9664 or email info@northmarket.com.
The North Market is located on the site of Columbus' old North Graveyard and has been in operation since 1876. The North Market is Columbus' only true public market. More than 30 merchants offer a wide variety of fresh produce, meat, poultry, seafood, flowers and other specialty food items. The Market also provides an international selection of freshly prepared foods, distinctive gifts and personable service from owner/operators. The North Market is open daily and located steps away from the Greater Columbus Convention Center and Nationwide Arena.
Contact: Mary Martineau
614-463-9664
mmartineau@northmarket.com