The Short North Summer Sale July 19 – 21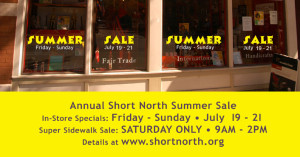 The Short North Arts District businesses collaborate for a once-a-year 3-day Summer Sale.  The event is Friday, July 19 through Sunday, July 21.  Over 50 businesses are participating with weekend-long sales and will offer their best deal during the Sidewalk Sale from 9:00AM – 2:00PM on Saturday, July 20. Do not miss these deep discounts on one-of-a-kind merchandise found exclusively in the Short North.
In coordination with GrandView Mercantile's Semi-Annual Tag Sale, thousands of shoppers will explore the full length of the district from 7th Ave to Nationwide Blvd stopping into the businesses with bright yellow SUMMER SALE signs. Each destination will offer sale racks, exclusive hidden treasures, and huge discounts.
Sale examples include but are not limited to:
Rowe Boutique: Bi-annual summer sale up to 90% off
Global Gallery: Up to 50% off select merchandise
Image Optical: 1/2 off lenses with the purchase of frames (up to $300 value)
Paradise Garage:  Close-out sale on select bikes; All clothing 20-50% off
Posh Pets Boutique: Up 75% off plus $5.00 table
Sole Classics:  Buy one, get one 1/2 off; Apparel up to 70% off
TORSO: Up to 60% off select items; 20% off select Diesel merchandise
Wine on High: Up to 60% off
What the Rock?!: All merchandise with an orange sticker is an additional 50% off; During the sidewalk sale, all Columbus-made items additional 20% off
The Short North Summer Sale represents a collaborative effort of businesses lead by the Short North retailers.  The complete list of merchants includes:
Aesthetic, Alexanders Jewelers, American Apparel, Big Fun Columbus, Bink Davies, Brigade, Candy Cane, Dames Bond Marketplace, The Emperor's Newest Clothes, Flora Home & Garden, A Gal Named Cinda Lou, The Garden/Chamber/Joint, Global Gallery, GrandView Mercantile Co., Green Olive Company, Grid Furnishings, Happy Go Lucky, High Street Denim, Homage, Image Optical, Kingsrowe Gallery, Ladybird, The Lamp Shade, Mary Catherine's Antiques, Milk Bar Boutique, On Paper, Paradise Garage Bicycles, pm gallery, Posh Pets Boutique, ReVue, Rivet, Rowe Boutique, Short North Piece of Cake, Sole Classics, Substance, for Fashion Conscious People, T. David Collection, Three Dog Bakery, Tigertree, TORSO, What the Rock?!, Whits Frozen Custard, Wine on High, Yoga On High, Zen Cha Tea Salon, Zoom Room Columbus and more signing on everyday.
Follow us:  Get specific details and pictures by joining the Short North Summer Sale on Facebook and follow @ShortNorth #SidewalkSale on Twitter and Instagram.
Contact: Courtney Winnen
Communications Coordinator
Short North Alliance

Print Friendly