The New Residential Recycling Program in Harrison West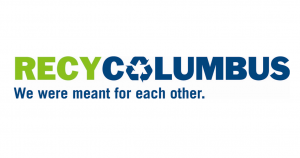 What You Need to Know…
Andrew Booker, community volunteer for the city of Columbus' new residential recycling program, gave a short presentation and answered questions about the new program at the October 17, 2012 Harrison West Society meeting. The "RecyColumbus" program will provide most Harrison West residents with recycling collection services starting on December 6, 2012.
Who is Eligible?
You must live in a single family home or a building of four or fewer attached units that is not  part of a larger complex.
City representatives are available to help determine eligibility.  Call 645-3111.
Residents of the Harrison Park community are not eligible. Technically, the Homes at Harrison Park comprise a condo association, so the city has determined that they are ineligible.
Roll Out Schedule
Service begins in Harrison West on Thursday, December 6, 2012.
Recycling will be picked up every two weeks beginning December 6, 2012; yard waste will now be picked up during alternate weeks.
A full schedule of pickup dates will be provided to you with your new recycling carts.
On weeks with a holiday, recycling will be picked up one day later. The normal schedule will resume the following week.
Recycling Cart Delivery
Carts will be delivered to each eligible home three to four weeks prior to the start of service. You do not need to be home to accept the cart; the city will leave it at your residence.
The city recommends that you label your cart with your address using a permanent marker. A space to do so is provided on the lid of the cart.
The cart holds 64 gallons of recyclables, which, for most households, will accommodate two weeks of items.
Where to Place Your Recycling Cart
Recycling will be collected from the location where your trash is collected.  Containers must be placed within one foot of the curb or alley with the arrow facing outward for collection; they should be placed at least three feet away from trash or recycling carts or any other obstructions. For alley collection, place the container in the alley behind your own property. Recycling must be placed out for collection by 6 a.m. on your collection day. After collection, containers must be removed and stored within 24 hours.
What Can You Recycle?
There are a few different categories of recyclables:
Paper and Cardboard – If you can tear it, it's recyclable
Plastic Bottles/Jugs – Anything with a neck is recyclable. Yogurt, peanut-butter- and sour-cream containers are examples of neckless, nonrecyclable plastics.
Glass Bottles/Jars/Metal Cans
Food/Beverage Cartons
A complete list of accepted recyclables can be found here.
What does it cost?
There is no additional cost to eligible households.
More Information on RecyColumbus
Getting Started Video