"Tell" Me You Love Me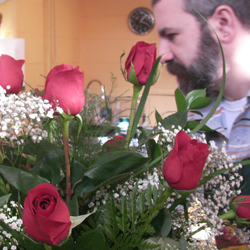 by Bob Mangia, Market Blooms
Park Benjamin, an American poet and journalist, once said that "flowers are love's truest language." Our Valentine's Day tradition of giving flowers to one's beloved has roots in a Swedish custom wherein lovers send bouquets to convey non-verbal messages. In the 18th century, every type of flower had a specific meaning, and so it was entirely possible for two people in love to have an whole conversation using only flowers.
That's not to say that it's easier to "speak" with flowers than it is to convey with words with exactly how you feel about someone. If you're not sure how to "tell" your sweetheart how much she or he means to you, perhaps I can help with some tips.
First, consider when and where you want your sweetheart to receive the flowers. Will you send them to her home? To his office? Will you be present when they arrive? Valentine's day is a busy delivery day for florists, so if you want a little more control over what time of day your flowers arrive, consider sending them a day or two before the 14th. Some people are put off by flower deliveries at work. Maybe he's just very private and would prefer not to be identified with the cooing that will inevitably follow a pretty arrangement through the office. Maybe her desk is overflowing, and flowers, while appreciated, will be one more thing taking up space that she doesn't have. Other people love to see the envy in their co-workers' eyes when big bouquets of gerbera daisies or freesia land on their desks.
Consider as well you love's taste. What kind of flowers does she like: bold displays of color and texture? simple, tasteful arrangements? plants that he can keep for a long time? cut flowers that she can take home? Think about what colors he likes or what kinds of flowers she notices in the yard neighborhood spring.
If you haven't been together long enough to know what flowers she comments on in the spring (or if you've never paid attention), you can always fall back on the stand-by. Roses are, by far, the most popular Valentine's Day flower. Red roses—the color traditionally associated with love—outsell all other colors three to one. Blue roses indicate love at first sight, and white roses indicate eternal love or purity—also nice things to "say" to your love. Lavender, orange, and light pink also convey messages of love, but you might want to avoid black ("death") and yellow ("infidelity," "dying love," and "a broken heart") roses.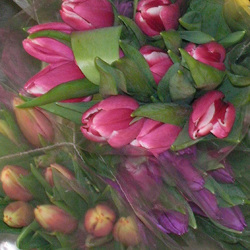 Boxed roses are considered to be the hallmark of good taste and are a perfect treat to take home after a long day at the office. Arranged flowers are ideal for the person who wants to display them at work. Because it arrives in a vase, an arrangement just begs to be displayed for everyone to admire and enjoy, and it has the additional advantage of being no fuss. And don't forget that your loved one will get bragging rites among his or her coworkers. A wrapped bouquet is considered more casual. It's a cost-effective option that you can take with you to your sweetheart's house for dinner. If you're planning to hand deliver your message, remember that many flowers—roses especially—do not always have long shelf lives. Most shops will guarantee roses only for 24 hours, so don't buy wrapped bouquets too far in advance.
You can choose from plenty of other flowers if your love is not a fan of roses or if you want to shake it up a little. Tulips and daffodils are arriving from Dutch producers and are great reminders that spring is just around the corner. Tropicals from South America and Asia are being flown in from Miami; they can suggest exotic pleasures. Or consider a mixed bouquet; you'll be able to customize your design and "write" a whole "sentence" declaring your love. Mixing flowers with different shelf lives into a single bouquet will let your message echo in your love's ear for weeks.
You might spend $10, or you might spend $100. Maybe you'll leave a single rose on her desk, or maybe you'll show up for dinner at his place with a bouquet as wide as the door. Maybe you'll write succinctly, "I love you," and maybe you'll write a sonnet. The important thing is to say something that's a true expression of how you feel.