Simple, Sweet, Edible: Chocopops
By Dara Schwartz
Get creative and design special treats for your next holiday gift or gathering for only $10.00
During this time of year, we find ourselves fighting the clock to get through our holiday checklist—placing postage on the last set of holiday cards, fighting the crowds for your sister-in-law's boyfriend's gift or running back out to the stores because you forgot the stocking stuffers. The stress can easily intrude on the holiday spirit. And every year, we make a promise to ourselves to simplify for the next. But why wait until next year? If you don't want to brave the crowds, save yourself the last minute trips by making simple, tasty treats from the heart.
Chocolate pops are an easy, home-made gift that you can flavor and decorate in countless ways. All you need is your imagination. And, of course, the recipe below. I have also provided some inspiration to get you started. Have fun with mixing spices, fruits and nuts together and turn the basic recipe into your own signature creation.
Cranberry Pistachio Chocopops
1 1/2 bars of Belgian baking chocolate (or any baking chocolate)
1 bag of milk chocolate chip morsels
1 bag of salted pistachio pieces
1 bag of dried cranberries
Baking sheets
Parchment paper
Pot of simmering water
Metal mixing bowl
Spatula
Spoon
Lollipop sticks (4 in.)
Preparation
1. Half fill a pot with water, and begin to simmer on the stove. You are going to place the metal bowl on top of the pot to melt the chocolate, so make sure the water line is just below the bottom of the bowl and not touching.
2. Line your baking sheets with parchment paper.
3. Pour pistachios and cranberries into two separate bowls.
4. Use a knife to break up the chocolate bars into smaller chunks.
Baking
1. Place chocolate bar chunks and morsels into the metal bowl and place bowl on top of the simmering pot.
2. Stir the chocolate with the spatula as the chocolate begins to melt. Stir constantly and remove from heat when most of the chocolate has melted—tiny pieces of chocolate should remain. Keep stirring after you remove from heat. The heat from the chocolate will melt the remaining bits. You want to make sure you do not burn the chocolate, which is why you remove from the heat before it's entirely melted. I recommend making two batches of melted chocolate. This will give you time to decorate the pops before the chocolate sets up.
3. Use your spoon to pour the chocolate into 2-inch diameter rounds on the baking sheet. The best technique for creating a circular shape is to pour the chocolate from the spoon at the center of the circle; the chocolate will spread outward into a disc. Make sure to stagger the discs so that you have room to place the sticks, and leave space between discs so that they won't touch when they expand from the weight of any toppings you add.
4. Once your baking sheet is filled, begin placing the sticks in the center of the chocolate circles.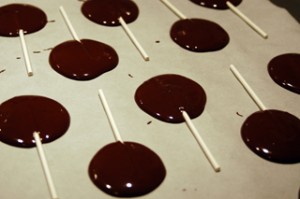 5. Finally, sprinkle your pistachios and dried cranberries onto the chocolate. Set aside for chocolate to harden.
Makes 44 Chocopops
Creative Inspiration to Get You Started
Curry Chocolate, Candied Ginger and Dried Apricot Pops: Add two tablespoons of curry powder (more or less to taste) to your half batch of melted chocolate. Sprinkle pops with candied ginger and dried apricots.
Pink Peppercorn and Pink Himalayan Sea Salt Chocolate Pops: Sprinkle chocolate rounds with both peppercorn and salt. Try to bunch the toppings in center to create a chocolate border. Try not to overdo it with the salt; the crystals are very strong and salty.
Chocolate Walnut, Slivered Almond and Sea Salt Pops: Sprinkle sea salt onto the melted chocolate rounds. Top pops with walnut pieces and almonds. For a fun decorative accent, melt white chocolate morsels in a metal bowl and drip or scatter over the nut toppings. Make sure to add the white chocolate only after the chocolate discs are firm.
Chili Chocolate and Cherry Pops: Add 1/4 to 1/2 teaspoon of cayenne chili powder to your half batch of melted chocolate. Sprinkle pops with dried cherries.
Espresso Chocolate Pops: Add 1/2 to 2 teaspoons of espresso powder to your half batch of melted chocolate. I sometimes use freshly ground coffee beans. Sprinkle pops with chocolate covered espresso beans.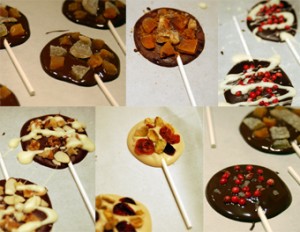 Sourcing Your Baking Ingredients for Only $10.00
Trader Joe's 100% cocao Belgian baking chocolate bars: 2 bars for $3.00
Nestle morsels from your nearest grocery store: 1 bag for $2.00
Pistachio pieces and dried cranberries: 1 bag each for $5.00 or less
To make your ChocoPops pop, find fun, unique ingredients at Spices in the North Market. Spices carries everything imaginable, from hungarian paprika to pink himalayan sea salt. If you can't find that perfect flavor, don't hesitate to ask the owner, Ben Walters. He will be sure to hunt it down for you.
While you are at the North Market, you can stop by the Greener Grocer for nuts and dried fruits.
If you are looking for lollipop sticks, try visiting Jo-Ann Fabrics. For $2.79, I picked up Wilton 150 Lollipop sticks (4 in.).
If you want to get creative with packaging, you can purchase clear candy bags and colored twist ties. I found 100 count Wilton treat bags for $3.14.