Sign! Sign! Everywhere A Sign!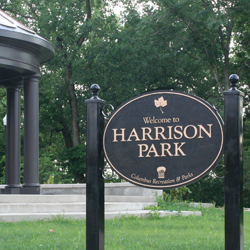 by Matthew Williams
Harrison Park is finally announcing its name to passersby. This week, our metal contractors installed signs for the park and for Funk-ee-Town Playground. The bronze signs were cut at American Bronze with raised lettering on a dark field.
The Harrison Park sign is adorned with a sycamore leaf—a tree common in our neighborhood and along the Olentangy River. The Funk-ee-Town sign is a joyful memorial to our neighborhood friend and advocate, Mary Funk, who died suddenly in Novermber 2010.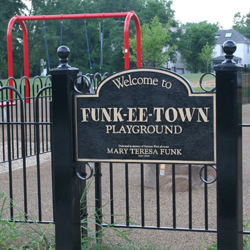 The addition of signage is one more milestone in the growth of Harrison Park. Work remaining to be completed are the removal of the yellow arrows at the intersection of First Avenue and Harrison Park, the installation of bollards in their place, turning on the lights along the Olentangy Recreation Trail and in the gazebo, installing gutters on the gazebo, and installing the second pair of sculptures. Plans are under way to plant up the semi-circular bed adjacent to the Harrison Park Condos Community Center, which will include makeshift turtle sculptures made from stones salvaged from the site.
A park dedication ceremony is being planned, along with a neighborhood party in the park, for late this summer. Watch the Harrison West Web site for an announcement.