Short North Summer Sale This Weekend – Super Sidewalk Sale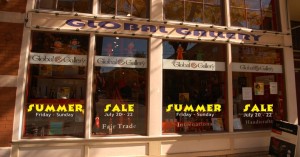 It's time for the Short North's biggest sale of the Summer: 35 Shops, 3 Days "In" the stores, 5 Hours "On" the sidewalks. The "Summer Sale" runs this Friday July 20th thru Sunday, July 22nd, highlighted by the Super Sidewalk Sale on Saturday from 9AM – 2PM. This is a once-a-year happening with shops from one end of the district to the other, cutting prices to clear out inventory and make way for fall merchandise.
Shops include:
Substance for Fashion Conscious People
Sole Classics
LP Designs
Happy Go Lucky
The Lamp Shade
The Garden
Royal Factory
Rose Bredl Flowers & Garden
The Joint
The Chamber
Cookware Sorcerer
Mary Catherine's Antiques
Flora Home And Garden
The Candle Lab
Homage
Funky & Functional
TORSO
Rivet
On Paper
Karavan Treasures from Turkey
Tigertree
The Emperor's Newest Clothes
GrandView Mercantile Co.
rowe boutique
Ladybird
What the Rock?!
jinny
Grid Furnishings
Posh Pets Boutique
Global Gallery
Flowerchild
Bungalow Home and Garden
The Emperor's Newest Clothes
High Street Denim
Bink Davies
Tha City Clothing Company
Parking & Access to the Sale:
During the first part of the Sidewalk Sale, The Color Run (a 5K walk/run) will wind its way northward through the Victorian Village and southward along the Short North High Street corridor.
How to access the sale:
The west-most two lanes of High Street will be closed for the walkers
The east-most lane on High Street will remain available for parking
The two remaining center lanes will be split with one traveling south and the other north
Where to park:
Meter-Parking Lot near Skully's Music Diner (between 4th & 5th Ave)
2nd Ave School parking lot located (68 East 2nd Avenue)
Union Parking lot just east of Hubbard Ave & High St intersection
Meter-Parking Lot between Bernard's & Utrect Art Supply, just north of Poplar Park
Visit the Short North Summer Sale 2012 Facebook Event Page
Download the Free PDF Summer Sale Businesses and Locations

Print Friendly