Resident Profile – Rebecca and Clinton Reno, 33 and 38 (and sons Wyatt, 4 and Silas, 9 months)
by Mary Martineau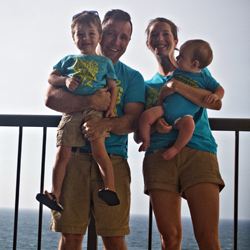 Clinton Wayne Reno and Rebecca Marie Reno were married in July 2005. They have two sons, Wyatt Clinton and Silas Henry Reno. Clinton's first name is actually the middle name of his grandfather who was born in Clinton County. Clinton's middle name, Wayne, is his father's first name and belies his "Papaw's love for John Wayne." In family tradition, Wyatt's middle name is Clinton in honor of his father and grandfather. (You following all of that?) Rebecca has always been known by the more familiar "Becky." Her mother bestowed that name upon her with the notion that she couldn't imagine a troublemaker named Becky, a concept her precocious daughter attempted to prove false throughout her youth.
Both came to Columbus in search of an education and eventually ended up meeting each other (at a now-defunct ad agency where they both worked) and staying here. Becky grew up in Bartonville, Illinois which is close to Peoria, which, according to her is "close to not much else." She came to Columbus to attend The Ohio State University, where she earned a bachelor's degree in psychology, then a master's degree in education, and she is currently working on simultaneously achieving her masters and Ph.D. in social work. In between studies at OSU, she currently teaches an undergraduate course there titled "Minority Perspectives in Social Work," an ideal topic for her as she spent eight years in a social and racial justice think tank before returning to school to resume her studies. When she is not studying, she is frequently found toting her Nikon camera around and capturing life frame by frame, sewing anything from an epic quilt to party napkins, tending to the raised garden they created in the backyard, cooking, canning or engaging in any escapades that will elicit giggles from her two boys.
Clinton was born in Dayton and grew up in Xenia, Ohio. Or, "56 miles from Columbus as the crow flies" as he succinctly puts it. He came to Columbus to attend the Columbus College of Art & Design, where he majored in illustration. He currently works full-time for Abercrombie and Fitch as a graphic designer and freelances on the side creating rock posters, t-shirts and other "miscellaneous graphic design" (including creating all of the event posters and swag for the North Market for the past seven years!). Clinton's graphic pursuits outside of work are also one of his sources of entertainment. Not to mention that creating rock posters for everyone from local to national musical groups results in many an invitation to a show. He's also a movie fan who heads right over the river to the Lennox Town Center when there's a flick he wants to see.
Before moving to Harrison West, Clinton and Becky lived in a tiny little two-story, one-bedroom apartment at West Fourth and Highland. As soon as they got married, they started looking for a house because they wanted more room, wanted to stay in the area, and wanted to give themselves something to grow into. Or, as Clinton jests, "We wanted to give ourselves something insane to do for the next 30 years" (referring to the slow and steady renovation of their house). Harrison West seemed ideal (and, Becky admits, was Clinton's idea), and the Renos have owned their little white farmhouse for six years. It is situated on bucolic Bradley Street, a quiet, single-block-long road that dead ends at the river. They have made significant improvements to the house including refinishing all of the hardwood floors, stripping and staining all of the woodwork throughout (an arduous and time-consuming process that they did much of by hand) and installing a brand new bathroom. Next on the agenda: curb appeal including landscaping the front yard, finishing their specially sawed and stained privacy fence and replacing their sidewalks.
The Renos love Harrison West because it is close to everything they love about Columbus. Says Clinton, "It's got some of our favorite people in it, and it's quiet when it needs to be, but when it gets a little loud, that's okay too. It fits us and our lifestyle perfectly." They patronize Ziggy's weekly, take their dry cleaning to Rainbow Cleaners, can "do some serious damage to those pancake balls" at Katalina's Café Corner or might be found studying (Becky) at Caffé Apropos (when not enjoying happy hour on the patio). And on those "rare date nights," they head up to Basi Italia.
Harrison West, according to Becky, sounds like it might be described in a neighborhood brochure. "There's the walkability/bike-ability/bus-ability. I can't think of anywhere I really need to go that I can't get to by one of those modes of transportation. There are so many incredible places around us, too. I love how easily I can access everything—from the many amazing small businesses around us to the multitude of events and new developments downtown. Also, it's been an amazing place to raise a family, and we're able to take advantage of many of the resources. You'll find us regularly at Harrison Park playground, on the bike path or at the library on High. Our boy is also attending the Battelle preschool. Again, all this is within walking distance. I can't think of another neighborhood with so much to offer."

Print Friendly