Resident Profile – Matthew William Wolf, 41
By Mary Martineau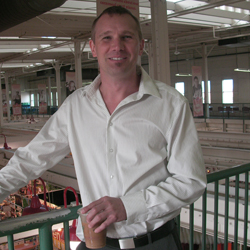 Matt Wolf can't control the weather, but as a weather forecaster he can tell you what the weather is going to do. Matt grew up out in the country in Carlisle, Pennsylvania. He attended Penn State and studied meteorology, setting him on a course that would ultimately lead him to Columbus. And while he loves Columbus, he's still a Nittany Lion at heart. "I have not converted," says Matt. "I'm sure that ruffles a few feathers."
Matt's circuitous route to Columbus involved various stops along the way, but always as a weather forecaster. One of his first and most interesting work experiences was spending a year at the Amundsen-Scott South Pole Station where he took weather observations, launched weather balloons and literally helped keep the lights on at the American scientific research station in Antarctica. After spending a year in a place with such extreme cold, Columbus can feel "pretty darn hot!" he says. Living for six months in continual broad daylight followed by six months in constant night also required some adaptation on his part, but Matt had fun and learned a lot from the experience.
From the South Pole Matt transferred to the National Weather Service. He worked in Michigan and then Oregon before deciding that he wanted to transition to working for private industry at an energy or utility company. He had never been to Columbus in his life, but AEP had an opening for which he interviewed, and he landed the job. They put him up in the Crowne Plaza Hotel and tried to help him find a place to live, but Matt had his own ideas. He trekked out of the hotel and around the surrounding neighborhoods until he discovered the Short North and decided that this is where he wanted to reside. "I didn't want to end up in the suburbs," says Matt. "The Short North had such a good vibe, such energy and the beautiful Goodale Park; that's where I wanted to be." He rented a place on Price Avenue just half a block off High Street for five years before making the hurdle to homeownership.
Buying a home was something of an impromptu incident for Matt. About three years ago, his parents were in town for a visit over his birthday weekend and declared, "You ought to buy a house! Let's go house hunting!" Matt's father is a builder, so this was not a completely off-the-wall proposition. Matt was still dedicated to living in the Short North, so he started driving around the neighborhood to see what was available. He ended up buying the second house he viewed. Matt's house on Second Avenue is walking distance to High Street—a major wish-list item in his search—but it was the backyard that sealed the deal. The house has a gorgeous backyard garden that Matt uses as his second living room during the summer.
Now that he is a resident of Harrison West, Matt is here to stay. He loves the friendly, down-to earth ambiance of the neighborhood. "Harrison West is just a real neighborhood with real people," explains Matt. "You walk down the street and people have their windows open and their front doors open with their screen doors, so you can walk by and say 'hi.' People sit on their porches and talk to each other; no one disappears inside through the garage not to be seen until they head out to work again." Matt likes the diversity of Harrison West dwellers too. "We have white collar and blue collar, students and families and a mix of ages, races and income levels that add depth and character and reality to everyday living," proclaims Matt. "Harrison West is not insular; we have people from all walks of life."