Resident Profile – Jeff Gill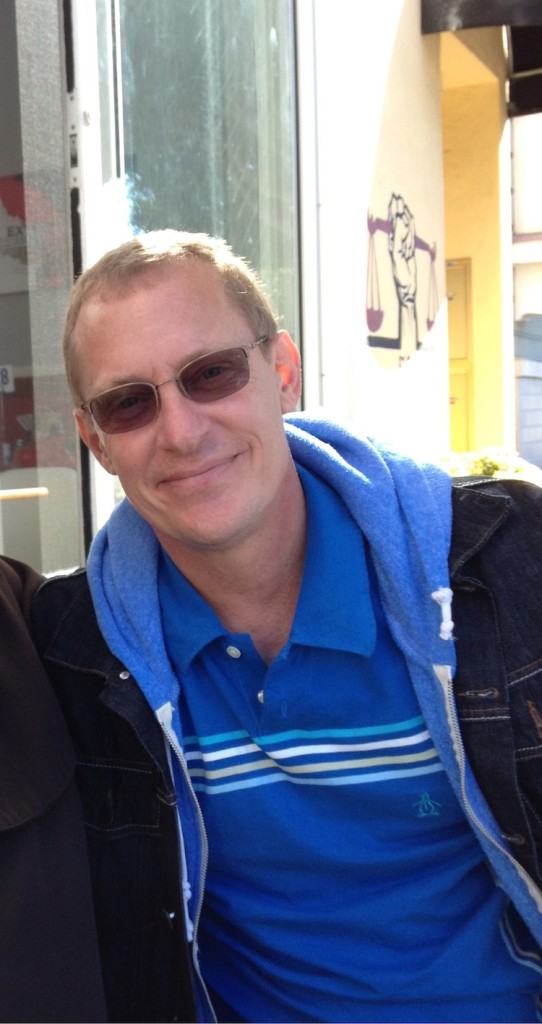 Introducing Harrison West resident Jeff Gill:
—-
1. What is your full name and its origin, or how was it given to you? Are you named after anyone? Do you have any nicknames?
Jeffrey Scott Gill. My Mom did the naming; she was going to go for Christopher Robin Gill, but Dad put his foot down on that one. He decided he'd like George Creswell (after his granddad); Mom put her foot down there. I think my name is from a baby book or something. No nicknames anymore…
2. How old are you?
51
3. Where do you live in Harrison West? Do you own your house or rent?
Bradley Street – the best locale in HW. We own – and how.
4. If you own your house have you done any significant renovations to it? Please describe.
Yes, we have done significant renovations over the past 15+ years – a lot of knocking down walls. Our yard is pretty out-of-control considering it was a fairly barren property in 1997. The next is set for the spring – we are doing an addition. I want a full bathroom on the first floor, like real grownup houses have.
5. How long have you lived in Harrison West?
Since Labor Day weekend, 1998.
6. What brought you here (HW) and where did you live before?
I moved from Italian Village to live with Bob Mangia. I was in Cleveland until June of '97 before that.
7. Where were you born and where did you grow up?
I was born in Chicago and moved to Cleveland when I was 13 years old. I have lived a couple of other places – sort of half-time in NYC for a period in the '80's; San Francisco for a few years in the early '90's. Columbus is great – I wouldn't be anywhere else in this part of the country – and that includes Chicago.
8. Did you go to college? If so, where and what did you study?
I was a perennial and aimless college student out of high school. I was once actually a Classics and Medieval Studies major. Ended up in great jobs which didn't call for degrees and was busy having fun. I did go to Columbus State Community College for their excellent RN program; finished my baccalaureate in nursing at OSU and am contemplating grad school.
9. What do you do for a living? How did you end up in that occupation?
I am a registered nurse at the James Cancer Hospital at OSU; I work on the blood and marrow transplant unit as a patient coordinator – sort of a case manager, I guess. I was an RN on the transplant floor, as well. I'd long wanted to become an RN; when my Dad died, something inside said 'do it now before it is too late'. So I did. And that was only possible – really – with Bob's support.
10. What do you like to do for fun?
Hmmmmm. Who is reading this? OK – I'll play it G-rated; anything with dogs; I read a lot; enjoy cards – especially euchre and it is always fun to beat Bob at cribbage.
11. Do you live with a partner/spouse/kids? Tell us a little about them too!
Yes – I am happily partnered with Bob Mangia – whom everybody knows I think; kids – no, but we act as part time support to friends with little ones. That is enough.
12. Do you have any pets? If so what are they and what are their names?
Yes – a wonderful 4-year old dog named Nicho. Seems everybody knows him, too.
13. What do you like about living in Harrison West?
Proximity to everything; I walk or bicycle to work; good eats nearby, and most of all it has a real neighborhood feeling. My neighbors are pretty awesome, too.
14. What are your favorite places to go out? Do you frequent any of the neighborhood businesses?
Eats: breakfast from Katalina's; dinners at Deep Wood or any favorite Thai place; (why doesn't Columbus have good Mexican food?); we belong to the Wexner and the Conservatory; movies or live performances are a good standby; occasionally a bar; I support whatever local business I can, including our neighborhood dry cleaners.