Resident Profile – Elizabeth Cook
by Mary Martineau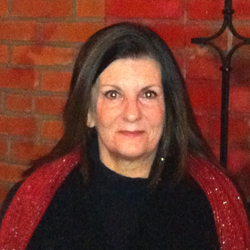 Named "Elizabeth" in honor of her mother and paternal grandmother, Elizabeth Anne Theresa Cook is the oldest of three sisters who were raised in an Irish Catholic family in the City of Brotherly Love, Philadelphia. As with many a respectable lady, her nickname is a guarded secret.
Elizabeth has been a resident of Columbus for 16 years. She lived in Westerville for 12 years, but following a divorce, she decided that she wanted to live in an urban area with interesting places to go and within walking distance of her job at The Ohio State University. She noticed an ad for the Harrison Park development online and decided to stop in and check it out after work one day. As soon as she saw the area and the Flats at Harrison Park, she knew she was in the right place. She has been living there happily for four years.
Elizabeth holds a faculty position as a psychologist at the OSU Medical Center where she works with neurologically impaired patients (CVA, TBI, dementia, ADHD, etc.). She declares with understatement, "It just sort of happened. My undergraduate degree in psychology led to a job; that led to a master's degree that ultimately resulted in a Ph.D." Along her journey to a doctorate, Elizabeth obtained her undergraduate degree from Temple University in Philadelphia, her master's degree from Clarion University in Pennsylvania and her Ph.D. from Kent State University.
Two of Elizabeth's three sons live nearby. Son David lives up the street, "just a two minute walk" on West First Avenue, while son Kevin is just over the river in Grandview. Both graduated from OSU and lived in the vicinity in the past. It was just fortuitous that they all ended up living so close. Elizabeth loves the proximity because it means that she gets to see her sons often. Harrison's on Third has become one of their favorite gathering places. That, or anywhere that serves chili dogs with onions and cheese and permits Elizabeth to indulge in that guilty pleasure of hers.
Elizabeth loves the Harrison West community for a number of reasons including its stock of gorgeous old houses. She loves the commitment of its inhabitants to the community and is a regular attendee of Harrison West Society meetings, where she participates in neighborhood activities. She loves that the neighborhood is within walking distance of many fun things like Harrison's on Third, and she is a frequent patron of Short North businesses and restaurants, counting the Rossi and Eleven among her favorites. Finally, she is enamored of the energy in the area and its dynamic mix of parks, the bike path and unique local businesses. It's the combination of all of these things that make Elizabeth happy to call Harrison West "home."