Resident Profile – Doug Joseph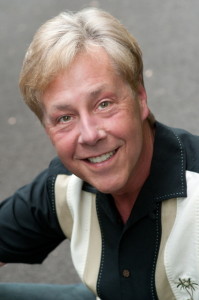 This month's resident feature is Doug Joseph of Bradley Street. We were excited to learn that Doug recently earned the lead in the upcoming comedy "The Devine Sister" with Short North Stage at the historic Garden Theater. Congrats to Doug; it's great to see a Harrison "West-er" on stage! Feel free to support Doug and the rest of the cast and crew in upcoming performances May 29th, 2014 – June 15th, 2014. We chatted with Doug about his upcoming role and more:
The upcoming performances:
1. Tell us a little bit more about yourself and how you got involved in the upcoming comedy "The Devine Sister" at the Short North Stage Garden Theater?
DJ: I had originally decided not to audition due to the lead (Mother Superior) having so many lines to learn, but after the initial auditions, the staff at SNS called and asked me to reconsider.  I love working there, so I went and ended up with the lead!
2. What is the comedy about and what role will you play?
DJ: The show is an R rated parody of every nun movie that exists!
3. When can we catch the performances?
DJ: The show opens May 29th and closes June 15th. More info and tickets can be found at ShortNorthStage.org
—-
More about Doug:
1. What is your full name and its origin, or how was it given to you? Are you named after anyone? Do you have any nicknames?
DJ: My full name is Carl Douglas Joseph. My father was Carl Maynard Joseph. Neither one of us used our first names.
2. How old are you?
DJ: Quite old enough, thank you!
3.  Where do you live in Harrison West? Do you own your house or rent?
DJ: We live on Bradly Street in a 100+ year old home. Own.
4. If you own your house have you done any significant renovations to it? Please describe.
DJ: A new kitchen hall and bath were added several years ago. I do interior painting for a living, so there is a lot of color going on here!
5. How long have you lived in Harrison West?
DJ: 27 years
6. What brought you here (HW) and where did you live before?
DJ: My partner owned the home briefly before I moved in. I am originally from Fayette County.
7. Where were you born and where did you grow up?
DJ: Washington Court House, Ohio
8.  How did you end up in Columbus if you are not from here?
DJ: I wanted far far away from small town living! After having toured the country doing summer stock and regional theater, Columbus was my obvious choice for the art scene.
9. Did you go to college? If so, where and what did you study?
DJ: I attended Wilmington College in Wilmington Ohio and have a degree in Music Ed. (there was no performance degree and I have NOT taught one day in my life!)
10.  What do you do for a living? How did you end up in that occupation?
DJ: I am owner of Off The Wall Interior Painting (we now also do exterior painting as well….offthewallinteriorpainting.com.
11.  What do you like to do for fun?
DJ: I enjoy thrifting, antique-ing, shopping, dining and karaoke!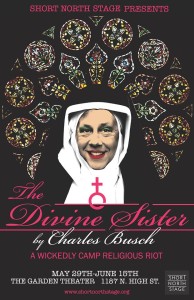 12.  Do you live with a partner/spouse/kids? Tell us a little about them too!
DJ: My partner Bryan is also involved in the arts. He serves as Music Director for various theater companies around town and is also a church organist and choir director.
13.  Do you have any pets? If so what are they and what are their names?
DJ: No pets (the gold fish died in the pond over the winter it appears!)
14.  What do you like about living in Harrison West?
DJ: I love the feeling of being in a small town neighborhood that is a few block away from city life!
15.  What are your favorite places to go out?  Do you frequent any of the neighborhood businesses?
DJ: I enjoy going to Union, Level, La Fogata (huge mexican fan)