Pride Art Show Opens June 13 at Spinelli's Deli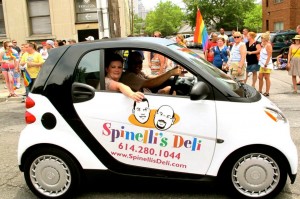 Spinelli's Deli, in partnership with Stonewall Columbus, will host the third annual Pride Art Show at Spinelli's Deli in June and July. The show features pieces by painter and multimedia artist Matt Honie, glass blower Jack Pine, and photographer Matt Vant.
The Pride Art Show opening reception takes place on Thursday, June 13 from 6:00 to 8:00 p.m. with free food and beverages. A deejay will spin dance music. The exhibit, which is an official event of Columbus Pride, will be on display through the end of July.
"The Pride Art Show gives gay artists an opportunity to share their creative work in an open and accepting place," said Joe Spinelli, president/owner of Spinelli's Deli.
Presented by Stonewall Columbus, the 32nd annual Columbus Pride celebration will be held on June 21 and 22 in Goodale Park. More than 200,000 people are expected to attend the festivities. The Columbus Pride Parade begins at 12:00 p.m. on June 22 and will march through downtown and the Short North. The theme of this year's Columbus Pride events is "Pride Changes Lives."
Spinelli's Deli is located at 767 Neil Avenue in Victorian Village. It's open Monday through Friday from 6:00 a.m. to 9:00 p.m. and on weekends from 7:00 a.m. to 9:00 p.m.

About Spinelli's Deli
Joe Spinelli and Bill Ward opened a Manhattan Bagel franchise at 767 Neil Avenue in 1997. Five years later, they transformed it into the independently owned and neighborhood-oriented Spinelli's Deli. The Spinelli's menu includes breakfast sandwiches, fresh-baked local pastries, muffins, bagels, locally roasted coffees, fresh-made salads and soups, dozens of hot and cold sandwiches, pastas, flatbread pizzas, seasonal dishes, and take-home dinners. Spinelli's also operates a mobile food cart and offers catering services.

About Columbus Pride
Founded in 1981, Columbus Pride is Central Ohio's annual LGBT festival and parade. It's presented by Stonewall Columbus, which provides a community center, programs, and services to support the LGBT community.

Contact
Alexandra Kelley Fox: alex@alexandra477.com
Facebook.com/spinellisdeli
Twitter @SpinellisDeli
Facebook.com/columbuspride
Twitter @cmhpride
spinellisdeli.com
columbuspride.org