Ohio Statehouse Annual Tree Lighting and Holiday Festival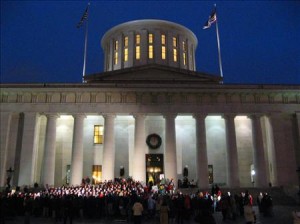 The 2012 Ohio Statehouse Tree Lighting and Holiday Festival marks the beginning of the holiday season on Capitol Square and throughout Ohio.  This year's celebration will take place on Monday, December 3 from 5:30 p.m. to 7:30 p.m.  A short tree lighting ceremony will take place at 5:30 p.m. on the west steps (High Street side) of the Statehouse.  First Lady Karen Kasich, and daughters Emma and Reece, are scheduled to attend and participate in the ceremony.  The event is free and open to the public.
For children and adults of all ages, this family-friendly festival will also include holiday music sung by a variety of choirs, a Santa and Mrs. Claus photo station, activities, games, displays, special performances and refreshments.  The free and public Tree Lighting and Holiday Festival invites families from across the Buckeye State to join together at their State Capitol to rekindle holiday cheer and state pride.
Refreshments courtesy of Tim Horton's, Cabot Creamery Cooperative, Girls Scouts of Ohio's Heartland Council and the eight exclusive caterers of the Ohio Statehouse.
Convenient and affordable parking is available during the event in the Ohio Statehouse underground parking garage.  Parking rates are available at www.ohiostatehouse.org.
Scheduled Holiday Festival activities include:
Ongoing Activity Stations:
Santa and Mrs. Claus Photo Station
Fa La La La La Face Painting
Reindeer Antler Hat Activity
Merry Mixtures Activity
Statehouse Coloring Page Table
State Auditor of Ohio's Activity Table
Secretary of State's Activity Table
Treasurer's Office Activity Table
Attorney General's Office Activity Station
Cotton Ball Santa Face Activity
Advent Calendar Activity
Bag Puppet Activity
Marshmallow Snowman Activity
Hand Print Wreath Activity
Santa Says Game Station
Pin the Nose on Rudolph Game Station
Holiday Tic Tac Toe Game Station
Shows on the Museum Gallery Stage:
6:00 to 6:20 p.m. — Bomb Dog Demonstration by Ohio Highway Patrol
6:30 to 6:50 p.m. — Puppet Show by CATCO
7:00 to 7:20 p.m. — Magic Show by Michael Dustman, Comedy Magician
Performances by:
Con Brio Children's Choir
Chapel Brass of the Salvation Army
Grove City Christian High School SUDDEN IMPACT
Displays:
BalletMet Display
Meet These Mascots:
Teddy Trooper
RATiO
Crew Cat & Frankie Hejduk
Clara & Nutcracker
Clawdette Cougar
For more information about this event, visit www.ohiostatehouse.org.
Annual Ohio Statehouse Tree Lighting and Holiday Festival
December 3, 2012
5:30 – 7:30 p.m.
Ohio Statehouse, 1 Capitol Square; downtown Columbus
Free!
www.ohiostatehouse.org
614/752-9777