Mayor Coleman Invites Families to Summer Block Party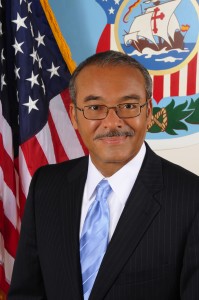 Mayor Michael B. Coleman and Franklin County Children's Services invites families and children to visit Columbus Commons August 18 from 10 a.m. to 3 for Mayor Coleman's Neighborhood Pride Block Party. This free family event features educational and fun activities focused on wellness, safety and parenting. Event highlights include:
Wellness:
· Walk! Join Walk With A Doc Dr. David Sabgir and Columbus Public Health's Healthy Places Program on a 30 minute walk around the Finding Time: Columbus Public Art 2012 Art Walk sites. The Walk will begin at 10 am at Columbus Commons. Please meet at the stairway by the stage.
· Hula! At Noon, hoop performers will teach hula hooping tips, and prepare the crowd to hula for 200 seconds of fun. Free hula hoops and t-shirts for the first 400 participants.
· Dance! Have you ever wanted to participate in a Flash mob? There is still time to sign up at info@xclaimdance.com. People of all ages are encouraged to learn the dance choreographed by XClaim Dance. Let's make this the largest flash mob in the city.
· Play! Imagination Play will be set up on the lawn for children, from Columbus Public Health's Early Childhood Obesity program. Climb to new heights on the Columbus Recreation and Parks Climbing Wall. Enjoy a ride on the Columbus Commons carousel for $1.
· Jump! And bounce on the large inflatables sponsored by St. Stephens, Gladden and Central Community Houses. CC Angels will host a jump rope demonstration on stage at 11:20.
· Bike! Pedal Instead is providing secure, supervised bike parking for bicyclists at the northeast corner of Rich Street and High Street.
· Please note, The Columbus Commons will be hosting free Yoga at 9 a.m. and Zumba at 10 a.m. as regularly scheduled.
Safety:
· Learn Safety tips from Columbus Police Officers, explore the Columbus Division of Fire's Fire Safety house to learn about fire safety and tour a COTA bus.
· Visit with the Franklin County Sherriff's Office, tour the SWAT vehicles, mobile command trailer and sign up for a Child Identification card.
· Learn how to be 1,2,3 ready with the American Red Cross and tour the Emergency Response Vehicle. Prepare for the next disaster with information from Franklin County EMA and CERT.
· Play the safety trivia game and pledge not to text and drive at the AAA booth.
Parenting:
· 4,000 pairs of flip flops have been donated by Soles4Souls. Visit the Franklin County Children's Service Booth for your free pair. Franklin County Children Service's booth will also have free parenting tips, Frisbees and face painting and FamJam activities.
· Pencils, paper and more school supplies will be free at the Target Booth while supplies last.
· Learn about robotics from Prudence Academy, scholarships from School Choice Ohio, how to make flubber from COSI and more about the Ready to Read program at Columbus Library's bookmobile.
· Free food! The team from AT&T Pioneers will be grilling up hot dogs that have been donated from Ohio MeatPackers, Save-A-Lot and AT&T. Cool off with a taste of Whit's Frozen Custard or ice cream novelty from the Sunny 95 Ice Cream Van. Quench your thirst with a sample from Oxywater, or find refreshment from one of the variety of free samples from Dr. Pepper Snapple group.
Mayor Coleman's Neighborhood Pride Block Party features more than 60 community information booths including: 200 Columbus, AAA, American Red Cross, Angies List, AT&T, Bridgescape, Buckeye Kids, Central Community House, Child Support Enforcement Agency, City of Columbus Community Relations Commission, COAAA, Columbus Art Walks, Columbus Comets, Columbus Department of Public Utililties, Columbus Division of Fire, Columbus Division of Police, Columbus Legal Aid, Columbus Library, COSI, COTA, COWIC, Deaf World Against Violence Everywhere, FCCS Youth Board, Franklin County Animal Control, Franklin County Auditor's Office, Franklin County Board of Developmental Disabilities, Franklin County Children Services, Franklin County Clerk of Courts, Franklin County Sheriff's Office, Franklin County Treasurer's Office, Franklin County Veterans Service Commission, Gladden Community House, Hands On Central Ohio, Healthy Children, Healthy Weights, Columbus Public Health, Imagine Academy of Columbus, Just Walk with A Doc Program, La Presna Publications, Lady Butterflies, Local Matters, Lowe's, MetroParks, Molina Health Care, MORPC, Mt. Carmel College of Nursing, Mt. Carmel Crime & Trauma Assistance Program, Ohio Attorney General's Crime Victim Section , Ohio Department of Natural Resources, Ohio Environmental Council, Ohio National Guard, Prudence Learning Center , Roll, Rosemont Center, School Choice Ohio, St. Stephen's Community House, St. Vincent Family Center, Target, Where Eagles Fly Karaoke, and Xclaim! Dance.
Mayor Coleman's Neighborhood Pride Block Party is produced by Mayor Coleman's Neighborhood Pride Program and Franklin County Children's Services. The event is free and open to the public. Paid parking is available at Columbus Commons garage.
Calendar Listing: Mayor Coleman's Neighborhood Pride Block Party
Date: Saturday, August 18th, 10:00 a.m. – 3:00 p.m.
Location: Columbus Commons, 160 S. High Street
Contact: 614-645-7116, www.columbus.gov/pride