Market to Market Ride Celebrates Columbus' Bicentennial with Mustaches and Monacles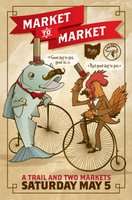 The North Market and The Hills Market created the Market to Market ride to celebrate self-propelled transportation (by bicycle) and locally created foodstuffs. On Saturday, May 5th they will host the sixth Market to Market ride and incorporate another reason to celebrate: the Columbus Bicentennial. The May 2012 version of Market to Market is hereby dubbed, "Mustaches and Monocles." Riders are encouraged to don their interpretation of "turn of the Century" garb for the ride.
Participants have the option of starting at either market to fuel up with breakfast before embarking on the 13 mile adventure to the market at the other end of the bike trail. Breakfast will be served from 8 a.m. to 10 a.m. Each participating rider will be issued a passport at the beginning of their journey. Bikers can collect stamps along the way by visiting with local vendors and organizations set up along the path including B1 Bicycles,Columbus Food Adventures, Consider Biking, Drake Union, Local Matters, Organic Green Fix, Pattycake Bakery, Pinchflat Poster Show, Seagull Bags, Slow Food Columbus,Small Business Beanstalk, Wexner Center for the Arts, Yay Bikes! andYELP Columbus. Nash Imaging Events will be stationed at The Hills Market with a photo booth to capture costumed riders and prizes will be awarded to costumed cyclists based upon photos posted on the Market to Market facebook page. Participants who arrive at their destination market will be rewarded with a scoop of Jeni's Splendid Ice Cream and a drawstring backpack filled with a t-shirt, coupons and goodies from local foods purveyors worth a total value of $50 worth of savings and samples. All part
icipating riders will also be entered into a random drawing for a messenger bag fromSeagull Bags. Costumed riders are eligible for prizes including a $100 B1 Bicycles gift card, Bike the Cbus tickets, tickets to aColumbus Food Adventures tour,Dine Originals Columbus certificates, a Pinchflat poster, gift certificates from the Small Business Beanstalk and a set of oils from The Olive Orchard.
The Hills Market will be offering "A Taste of The Hills Market" from 10 a.m. to 2 p.m. featuring a decadent day of samples of some of the best products that are created within The Hills Market. They'll be dealing out Hills Own classic creations, from their famous Hills Own Ohio Beef Meatloaves to the new Hills Own Ricotta to the best dressing to come from Columbus, Hills Own '56 Dressing. Samples will be available throughout the store, paired with wines and beers. Meanwhile, at the opposite end of the Olentangy River Greenway, the North Market will be celebrating the opening of its Farmers Market. Ohio Proud vendors will join the Market's seasonal farmers in the plaza selling Ohio-made foodstuffs and abundant live entertainment by local musicians will add to the gaiety of that day.
Market to Market will take place on Saturday, May 5. Registration is $15 in advance and $20 at the door. Registration can be made online at northmarket.com or thehillsmarket.com by phone by calling 614-846-3220 (The Hills Market) or 614-463-9664 (North Market), or in person at either location beginning April 10.

Print Friendly