Herculean Honeysuckle Hewing in Harrison West
by Matthew Williams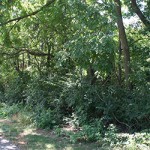 The Harrison West Society Parks and Green Space Committee will continue its assault on invasive honeysuckle this year with not one, not two, but three abatement work days. And we need your help.
We've made some really great progress over the last three years removing honeysuckle along the river in our neighborhood. This year, we want to do some mop up operations on the east bank of the Olentangy River and begin working on the west bank.
On Saturday, May 31, 2014 from 9:30 a.m. until 1:30 p.m., Karl Hoessle from the Columbus Ecological Restoration Program will be on site at the south end of Harrison Park to help us clear the last of the old growth. Karl will bring a truck and chipper (and maybe his new spiffy ATV with a winch), and we'll work down to the Superior Beverage property line. Hands to cut and haul brush to the chipper will be our contribution to the effort on this challenging work site. Volunteers need not stay for the entire event; any time you can give will be appreciated. Some volunteers will be on site as early as 8 a.m. to prep for the chipper's arrival, and early risers are welcome to join them. Volunteers should meet at the Harrison Park gazebo or just come down to the worksite. As always, the committee will provide doughnuts.
On Saturday, July 12, 2014 from 9:30 a.m. until 1:30 p.m., Karl will join us again to begin working on the West side of the river south of West 3rd Avenue. Volunteers should meet at the Harrison Park gazebo; we can walk over together. If you want to volunteer but need to start later than 9:30, just come directly to the worksite, which will be along the Olentangy Recreation Trail south of West 3rd and the "tunnel." (Yes, we'll still provide doughnuts!)
Finally, in August we're planning to mop up the riverbank adjacent to Battelle's property north of West 3rd Avenue. We've hit that area hard for two years now, so we should have a comparatively easy day pulling up new growth and clearing the last remaining stands of honeysuckle. A final date and further details will be forthcoming, so keep an eye on harrisonwest.org for more information.
Our neighborhood parks just keep getting better, but getting them to their best takes a lot of work. Don't leave it to "the other guy" to keep us on the upswing. Be proud of your neighborhood and join us in making Harrison West an even better place to live, work and play.