Harrison West Society 2013 Neighbors of the Year
by Kristen Easterday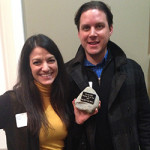 It is with great honor and excitement that the Harrison West Society names Dara Schwartz and Mark Subel of Bradley Street as the Harrison West Society 2013 Neighbors of the Year.
Nominated by numerous society members, Dara and Mark are fantastic assets to our neighborhood. Mary Martineau, the 2012 Neighbor of the Year and society secretary presented this dynamic duo with the award at the annual Harrison West Holiday Party.
Owner of his own marketing business and head of the communications committee, Mark keeps the Harrison West website and social media feeds current with neighborhood and city-wide news, informing Harrison Westers on a weekly basis of big events and offering useful reminders such as recycling day and the occasional warning to be vigilant about moving their cars during scheduled street sweepings. Dara is the go-to graphic designer for the HWS; she's credited with our Holiday Party invitation design and our HWS informational postcard that encourages new members to join the society. And let's not forget the time she spent as vice president.
Ever-proud of and in love with the Harrison West they call home, Mark and Dara do their best to share their Harrison West pride with others. Several years ago, they debuted "So Fun Summerfest"; on the Sunday of Labor Day weekend, they invite neighbors to come and enjoy a lovely day of local food, tasty beverages, local independent musicians, a few games or educational components, sometimes a contest or two and one another's company. And this year, after a couple years of planning they launched the successful Harrison West Jazz Series that brought a few hundred neighbors and Columbus jazz aficionados out on sunny September Sunday afternoons to enjoy an array of jazz by some of Columbus' outstanding jazz musicians and to make picture-perfect use of the Harrison Park gazebo.
These are all wonderful things that they have done for the community that have unequivocally earned them this award. Congratulations, Mark and Dara!